The upcoming iOS 17, iPadOS 17, and macOS Sonoma updates for the iPhone, iPad, and Mac include a couple of new sign-in methods for an Apple ID account.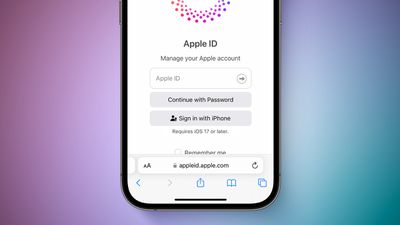 First, it is now possible to sign into an Apple ID with any phone number or secondary email address on file with the account. We were able to sign into an Apple ID with a phone number on the Apple ID website using a Mac running macOS Ventura, so it's unclear if this feature specifically requires the new software updates or is simply a backend change.
Second, starting with an iOS 17 update coming later this year, there will be a new Apple ID proximity sign-in feature. This will allow you to bring an existing signed-in and trusted iPhone or iPad into proximity with a new device being set up, pair the devices by scanning an on-screen "particle cloud," and complete sign-in automatically.
iOS 17, iPadOS 17, and macOS Sonoma also added passkey support to Apple IDs.
Apple announced that iOS 17 and iPadOS 17 will be released on Monday, September 18, while macOS Sonoma launches Tuesday, September 26.
Popular Stories