During its event this week, Apple announced that the iPhone 15 Pro and iPhone 15 Pro Max feature a more repairable internal design, with a redesigned frame that allows for the back glass panel to be easily removed from the devices.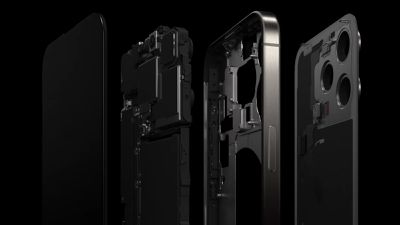 Apple already applied this change to the lower-end iPhone 14 and iPhone 14 Plus last year, making them the first iPhone models that can officially be opened from both the front and back sides of the device for repairs since the iPhone 4S, released in 2011. The internal redesign did not extend to the iPhone 14 Pro models.
Removable back glass will likely result in significantly lower repair fees for iPhone 15 Pro models with cracked back glass for customers without AppleCare+ coverage. Apple's out-of-warranty fees for the more repairable iPhone 14 and iPhone 14 Plus with back glass damage range from $169 to $199, compared to $499 to $549 for iPhone 14 Pro models. Apple has yet to disclose repair fees for the iPhone 15 series on its website.
iFixit's Kyle Wiens last year said the iPhone 14 represented "the most substantial iPhone redesign" since the iPhone X given the increased repairability. He added that the changes were "such a big deal that it should have been Apple's big announcement—the iPhone has been redesigned from the inside out to make it easier to repair."
The entire iPhone 15 series can be pre-ordered starting this Friday, September 15 at 5 a.m. Pacific Time, and the devices launch on Friday, September 22.
Popular Stories