For this week's giveaway, we've teamed up with accessory maker Speck and Best Buy to offer MacRumors readers a chance to win an iPhone 15 and a set of cases and accessories from Speck.


Speck is well-known for its range of case options for Apple's iPhones, and though the ‌iPhone 15‌ models have just been announced this week, Speck is ready with a whole iPhone 15 case lineup and a selection of ClickLock MagSafe grips and mounts that work with the cases.
If you're not a fan of Apple's new FineWoven cases or don't care for the color options that Apple has available, Speck has debuted 169 new cases that are available in 17 different designs and 20 colors for all four of the new ‌iPhone 15‌ models. The cases are available for purchase now from Speck's website and from BestBuy retail locations and the BestBuy website.
Speck has three types of cases that users can choose from, including standard (with no MagSafe), ‌MagSafe‌, and ClickLock for ‌MagSafe‌, which works with ClickLock accessories. Prices range from $25 to $50, and there are options for every aesthetic. The Presido2 Pro, for example, has Speck's Armor Cloud technology and protects the iPhone from drops as high as 13 feet while still looking stylish, plus it works with ‌MagSafe‌ accessories.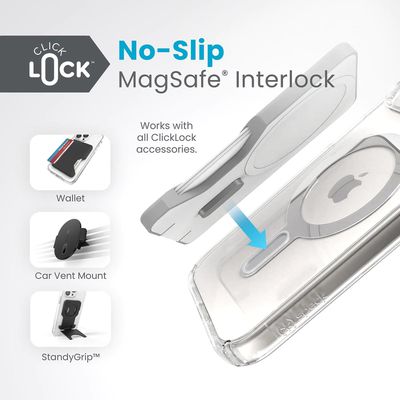 The Presidio2 Grip, one of Speck's most popular options, has the same 13-foot drop protection while also offering no-slip inverted grips. This version is 20 percent slimmer than previous versions of the Grip case, it has ‌MagSafe‌, and it comes in a range of color options that look great with Apple's new iPhones.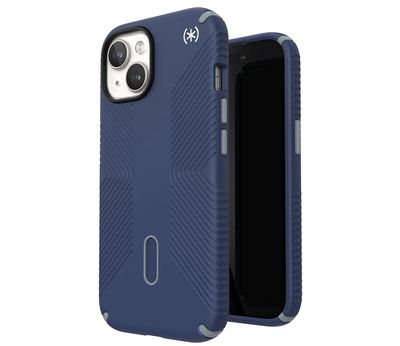 If you want protection but don't want to cover up the ‌iPhone‌'s design, Speck has the Presidio Perfect-Clear Grip MagSafe case with no-slip grips, 13-foot drop protection, and stylish grooves at the sides. If you're not a fan of that no-slip look, there's also a Presidio Perfect-Clear case that has a smoother finish.

These cases all work with ClickLock, a technology Speck has designed to prevent accidental separation of iPhones and ‌MagSafe‌ accessories by adding a magnetic interlock mechanism. Speck this week came out with three new ClickLock options that work with its cases and the ‌iPhone 15‌ models, including the Car Vent Mount, the Wallet, and the StandyGrip.
Priced at $30, Speck's MagSafe Wallet is definitely a product where you want ClickLock because a wallet is the last thing you want to slip off of your ‌iPhone‌. Available in several colors, the Wallet holds 1-3 credit, debit, or ID cards.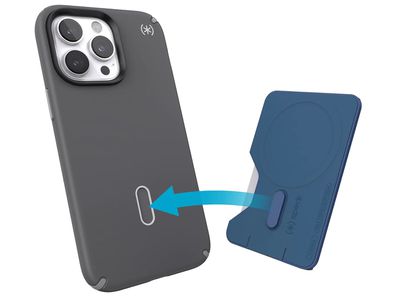 The $30 StandyGrip with MagSafe and ClickLock holds the ‌iPhone‌ upright in a horizontal or vertical viewing position and it can be used to attach the ‌iPhone‌ to a MacBook so it can serve as a webcam, and that's also a situation where a secure attachment is crucial.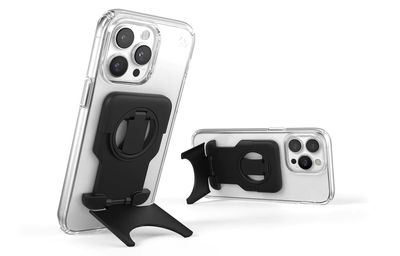 Speck also has the $40 Car Vent Mount for MagSafe with ClickLock that attaches to a car vent and has a built-in cable holder. It uses ClickLock to ensure that your ‌iPhone‌ isn't going to go flying off of the mount when you hit a bump. To see all of Speck's ‌iPhone 15‌ cases and accessories, make sure to visit the Speck website.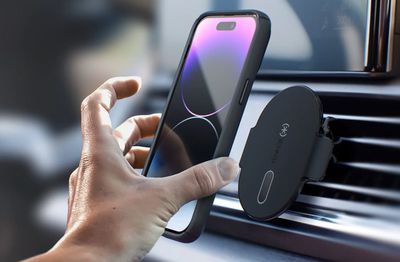 For our giveaway, Speck and Best Buy are providing a 128GB ‌iPhone 15‌ and a selection of accessories to go with it, including a Presidio2 Grip Case, a Presidio Perfect Clear Grip Case, and a Presidio Perfect Clear Case, all of which have both ‌MagSafe‌ and ClickLock. Speck is also adding in its Wallet for ‌MagSafe‌ with ClickLock, its StandyGrip for ‌MagSafe‌ Stand, and its Car Vent Mount for ‌MagSafe‌ with ClickLock.
To enter to win, use the widget below and enter an email address. Email addresses will be used solely for contact purposes to reach the winner(s) and send the prize(s). You can earn additional entries by subscribing to our weekly newsletter, subscribing to our YouTube channel, following us on Twitter, following us on Instagram, or visiting the MacRumors Facebook page.
Due to the complexities of international laws regarding giveaways, only U.S. residents who are 18 years or older, UK residents who are 18 years or older, and Canadian residents (excluding Quebec) who have reached the age of majority in their province or territory are eligible to enter. All federal, state, provincial, and/or local taxes, fees, and surcharges are the sole responsibility of the prize winner. To offer feedback or get more information on the giveaway restrictions, please refer to our Site Feedback section, as that is where discussion of the rules will be redirected.
The contest will run from today (September 15) at 9:00 a.m. Pacific Time through 9:00 a.m. Pacific Time on September 22. The winner will be chosen randomly on or shortly after September 22 and will be contacted by email. The winner will have 48 hours to respond and provide a shipping address before a new winner is chosen.