While the new AirPods Pro with a USB-C charging case are still classified as second-generation AirPods Pro, the earbuds have a few other new features.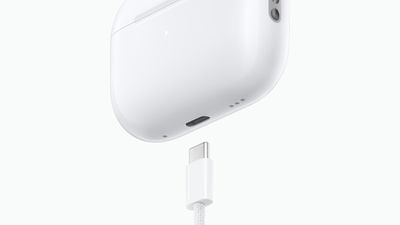 In a press release today, Apple announced that the updated second-generation AirPods Pro will support 20-bit, 48 kHz lossless audio with ultra-low latency when the earbuds are connected to Apple's new Vision Pro headset launching in early 2024.
"When Apple Vision Pro is available early next year in the U.S., customers will be able to enjoy the most advanced wireless audio experience in the industry with the new AirPods Pro for exceptional entertainment, gaming, FaceTime calls, and so much more," said Apple.
Apple also said the updated AirPods Pro have additional IP54-rated dust resistance for both the earbuds and the charging case.
The updated AirPods Pro are available to order starting today for $249, and will be available in stores beginning Friday, September 22. Apple is not selling the USB-C charging case separately, and it has discontinued the AirPods Pro with a Lightning case. The standard third-generation AirPods and the AirPods Max were not updated today.
Popular Stories