A factory sealed original 2007 iPhone has been sold at auction for $190,373, far exceeding the previous record for an auctioned ‌iPhone‌.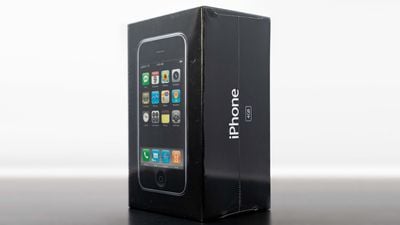 Apple sold the 4GB original ‌‌iPhone‌‌ for a limited amount of time, making it is the rarest of the first-generation ‌‌iPhone‌‌ models. It was predicted to establish a record sale price of up to $100,000, but the actual sale price turned out to be far higher.
The LCG Auction began on June 30 and ran through July 16. The initial bid was $10,000, and the lot had a total of 28 bids, which led to the record-breaking $190,372.80 sale.
The ‌‌iPhone‌‌ was originally sold with either 4GB or 8GB of storage when it launched 16 years ago on June 29, 2007. The 8GB model turned out to be far more popular, so Apple discontinued the 4GB model after just a few months in favor of a higher 16GB capacity.
The person selling the ‌‌iPhone‌‌ was part of the original engineering team when the ‌‌iPhone‌‌ launched, according to LCG Auctions, and it comes with a letter of provenance. The 4GB model was sold for $499, while the 8GB version cost $599.
Just this year, an 8GB original ‌‌iPhone‌‌ sold for $63,000 in February, while a second sealed original ‌‌iPhone‌‌ with 8GB of storage sold for $54,000 in March.
Popular Stories