Apple quietly discontinued the MagSafe Battery Pack and MagSafe Duo Charger immediately after unveiling four new iPhone 15 models with a USB-C port last week. Both accessories were equipped with a Lightning connector.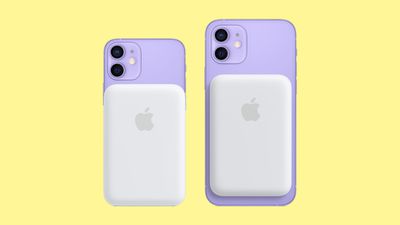 Apple has not commented on why the MagSafe accessories were removed from sale, but the move was not surprising given the company is transitioning away from Lightning. The big question is, will they ever return with USB-C ports?
As noted by Daring Fireball's John Gruber, Apple has often released battery packs months after new iPhones. Apple released Smart Battery Cases for the iPhone 6s, iPhone XR, and iPhone 11 between two and four months after each of those devices launched, while the MagSafe Battery Pack launched nine months after the iPhone 12.
"So, maybe Apple is simply done selling the MagSafe Battery Pack," said Gruber. "But, even if they have a new USB-C version in the works, I'm not at all surprised that it wasn't released last week. Let's wait for November."
In his "Power On" newsletter today, Bloomberg's Mark Gurman said he still expects USB-C versions of the MagSafe Battery Pack and MagSafe Duo Charger to return "eventually." However, he said "don't hold your breath."
In May 2022, prior to the MagSafe Battery Pack being discontinued, Apple analyst Ming-Chi Kuo said a USB-C version of the accessory would be released in the "foreseeable future," but it's unclear if he still expects this to happen.
Released in July 2021, the ‌MagSafe Battery Pack‌ was priced at $99 and attaches magnetically to the back of the iPhone 12 and newer, providing hours of additional battery life. The battery pack can be recharged with a Lightning cable.
Released in December 2020, the MagSafe Duo was a $129 foldable charging mat with a MagSafe charger for iPhones and an Apple Watch charging puck.