Developers are working with Apple to bring the iPhone 15 Pro's console games to the iPad and Mac, Apple executives told IGN.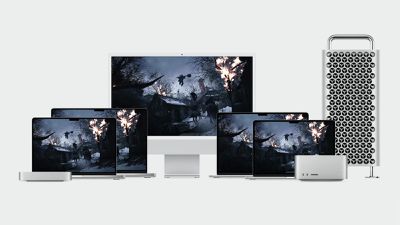 In a new interview, Jeremy Sandmel, Apple's Senior Director of GPU Software, and Tim Millet, Apple's VP of Platform Architecture, discussed the ‌iPhone 15 Pro‌'s more advanced gaming capabilities. During the announcement of the ‌iPhone 15 Pro‌ models, Apple highlighted how the A17 Pro chip features a brand new GPU with hardware-accelerated ray tracing, enabling console games like "Resident Evil 4" and "Assassin's Creed: Mirage" to be played on the iPhone.
Asked if these new games will be compatible with Apple silicon iPads and Macs, Millet said that "The developers are going to work with us to do it." Sandmel added:
…one of the things that fundamentally enabled that is this unification of the architecture of Apple Silicon and the iPhone Silicon and the iPad Silicon. And so you can see that they're able to do exactly what you just suggested, which is bring a game to iPhone and Mac that is the same game. It's the same rendering, it's the same rendering quality and it's the same game they had on a gaming PC and a console.

So we really look at these many generations of SoC architecture across the phone, across the iPad, across now, Apple Silicon Macs. And we'd see that as part of one big unified platform, a graphics and gaming platform in particular.
Since these console games are purportedly enabled by the hardware advancements of the A17 Pro, Apple's first chip fabricated with TSMC's 3-nanometer process, it seems possible that Apple is alluding to next-generation iPads and Macs with M3 chips here.
DisplayPort support is built into the USB-C port on all iPhone 15 models, meaning that the devices can output video at up to 4K/60Hz natively to a DisplayPort-equipped external display or TV with a supported USB-C to DisplayPort cable. On previous iPhones with a Lightning port, video mirroring is limited to 1080p with Apple's Lightning-to-HDMI or Lightning-to-VGA adapters.
Asked if, given the device's DisplayPort capabilities, ‌iPhone 15 Pro‌ owners would be be able to play the likes of Resident Evil 4 on an external display, Sandmel replied:
As you probably know, there's the display resolution and then there's the gaming resolution, and then the frame rates, the game rendering. With technologies like MetalFX's upscaling, we can sort of separate those two things. The game can run at really high frame rates, get really great quality results, and then upscale whatever resolution the display, whether that's the iPhone display, whether that's an external display. So yes, the iPhone can connect to these 4K displays, and it can drive them externally doing whatever you do on the phone, including gaming to these other displays. The resolution and frame rate are going to highly depend on what the game's actually doing.
The ‌iPhone‌ does not yet offer a dedicated extended display mode, but it is possible to mirror an ‌iPhone‌ to an external display via a wired connection, as well as AirPlay. See IGN's full interview for more information.