Apple does not advertise battery capacities for its new iPhone 15 lineup, but MySmartPrice has obtained this information from a Chinese regulatory database.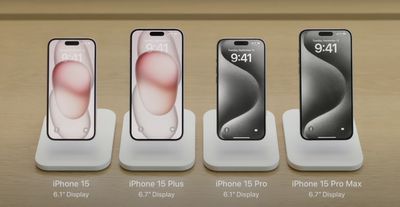 The Chinese regulatory listing reveals that the iPhone 15 has a 3,349mAh battery (rated capacity) and a wattage of 12.981Wh, while the iPhone 15 Pro has a 4,383mAh battery and a wattage of 16.950Wh.
Battery capacities for the iPhone 15 lineup:
iPhone 15: 3,349mAh
iPhone 15 Plus: 4,383mAh
iPhone 15 Pro: 3,274mAh
iPhone 15 Pro Max: 4,422mAh
Battery capacities for the iPhone 14 lineup:
iPhone 14: 3,279 mAh
iPhone 14 Plus: 4,325 mAh
iPhone 14 Pro: 3,200 mAh
iPhone 14 Pro Max: 4,323 mAh
The same database accurately revealed battery capacities for all four iPhone 14 models ahead of those devices launching last year.
All four iPhone 15 models were announced by Apple this week and will be available to pre-order on Friday. The devices are set to launch on September 22.
Popular Stories