The Apple Watch Ultra 2 replaces the first-generation model that was introduced last year in Apple's smartwatch lineup, but how different are the two successive smartwatch generations?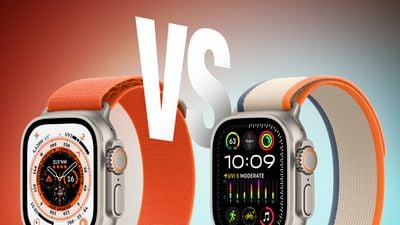 In 2023, Apple unveiled the ‌Apple Watch Ultra‌, introducing a more durable design and titanium casing, a larger and brighter display, additional speakers and microphones, considerably longer battery life, and more. The first-generation ‌Apple Watch Ultra‌ has now been discontinued by Apple, and as a year-old model, prices at third-party resellers are falling. As such, some customers may be weighing up whether to upgrade to a first- or second-generation Ultra‌.
The two ‌Apple Watch Ultra‌ models share the overwhelming majority of their features, so should you consider buying or sticking with the first-generation to save money? This breakdown also serves as a way to see all the differences that the Ultra 2 brings to the table.
| ‌Apple Watch Ultra‌ (first-generation) | ‌Apple Watch Ultra‌ 2 |
| --- | --- |
| Retina display with up to 2,000 nits of brightness | Retina display with up to 3,000 nits of brightness, Apple's brightest display ever |
| Flashlight | Flashlight boost via Digital Crown |
| | Double Tap gesture to stop timers, play and pause music, snooze alarms, answer and end phone calls, take photos with the Camera Remote, open the Smart Stack, and scroll through widgets, all without touching the display |
| S8 chip (based on A13 Bionic chip) | S9 chip (based on A15 Bionic chip: 60% more transistors, 30% faster) |
| Neural Engine | 4-core Neural Engine (up to twice as fast) |
| Siri processed in the cloud via internet connection | ‌Siri‌ processed on-device for requests that do not need information from the internet, resulting in quicker and more reliable responses |
| | ‌Siri‌ can access health and fitness data |
| Dictation | 25% more accurate dictation |
| First-generation Ultra Wideband chip | Second-generation Ultra Wideband chip |
| | Precision Finding for iPhone 15 models, providing distance and direction, as well as visual, haptic, and audio guidance to a misplaced iPhone |
| | HomePod integration: When a user gets within four meters of a playing ‌HomePod‌, the Apple Watch launches Now Playing to control playback. If nothing is playing, media suggestions appear at the top of the Smart Stack. |
| 32GB storage | 64GB storage |
Overall, the ‌Apple Watch Ultra‌ 2 is a very minor upgrade over the first-generation model, with the S9 chip, Double Tap, and Precision Finding for ‌iPhone 15‌ models being the most significant changes. As a result, it is very difficult to recommend upgrading.
Most users of the existing ‌Apple Watch Ultra‌ will not be able to justify upgrading to the Ultra 2, but some customers coming from an older Apple Watch or those who do not have one at all could still have good reason to prefer the latest model, namely those who heavily use a ‌HomePod‌, plan to buy an ‌iPhone 15‌ model and can take advantage of Precision Finding, need additional storage for downloaded media, or think one-handed use with the Double Tap gesture would be useful.
The ‌Apple Watch Ultra‌ 2 is very similar to the first-generation model, so most customers who are interested in buying an Ultra model may prefer to look for a discounted first-generation model. If the original device can be found for a substantially lower price, it remains a solid buy. The Ultra 2 is priced at $799, so if you are not interested in its new features and can find the original model for less than ~$650, it may be worth getting that instead.