Alongside iPhone 15 price drops in the United Kingdom compared to last year's iPhone 14 models, Apple has also reduced the cost of its iPhone Battery Servicing program for several earlier models.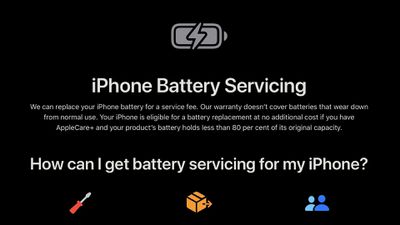 The biggest savings can be found for ‌iPhone 14‌ models. Prior to Tuesday's iPhone 15 announcement, Apple charged £105 for ‌iPhone 14‌ battery replacements, whereas now it lists £95, or a £10 reduction.
New batteries for iPhone XR through iPhone 13 models are now £85 compared to £89 previously, and new batteries for iPhone SE through ‌iPhone‌ X models are now £65 instead of £69.
Apple's new battery replacement charges for all models offered through its ‌iPhone‌ Battery Servicing program are as follows:
‌iPhone 14‌ models – £95
‌iPhone 13‌ models – £85
iPhone 12 models – £85
‌iPhone‌ 11 models – £85
‌iPhone‌ XS models – £85
‌iPhone‌ XR models – £85
‌iPhone‌ X – £85
‌iPhone‌ 8 – £65
‌iPhone‌ 7 – £65
‌iPhone SE‌ – £65
With the exception of the starting price of the iPhone 15 Pro Max, Apple on Tuesday made UK prices of the newly announced ‌iPhone 15 Pro‌ and ‌iPhone 15 Pro‌ Max models at least £100 cheaper across all configuration options than the equivalent iPhone 14 Pro models when they were launched last year. Similar reductions were also reported across other European countries.
In addition, Apple cut the price of AirPods Max, from £549 down to £499, as well as updated second-generation AirPods Pro, from £249 down to £229.
In the US, the ‌iPhone 15 Pro‌ Max was the only device to see a price increase, rising $100 to $1,199 because of Apple's decision to drop its 128GB storage option and make 256GB the new minimum storage configuration. Apple increased prices more aggressively for the phones in some other markets, including Canada and India.
Popular Stories