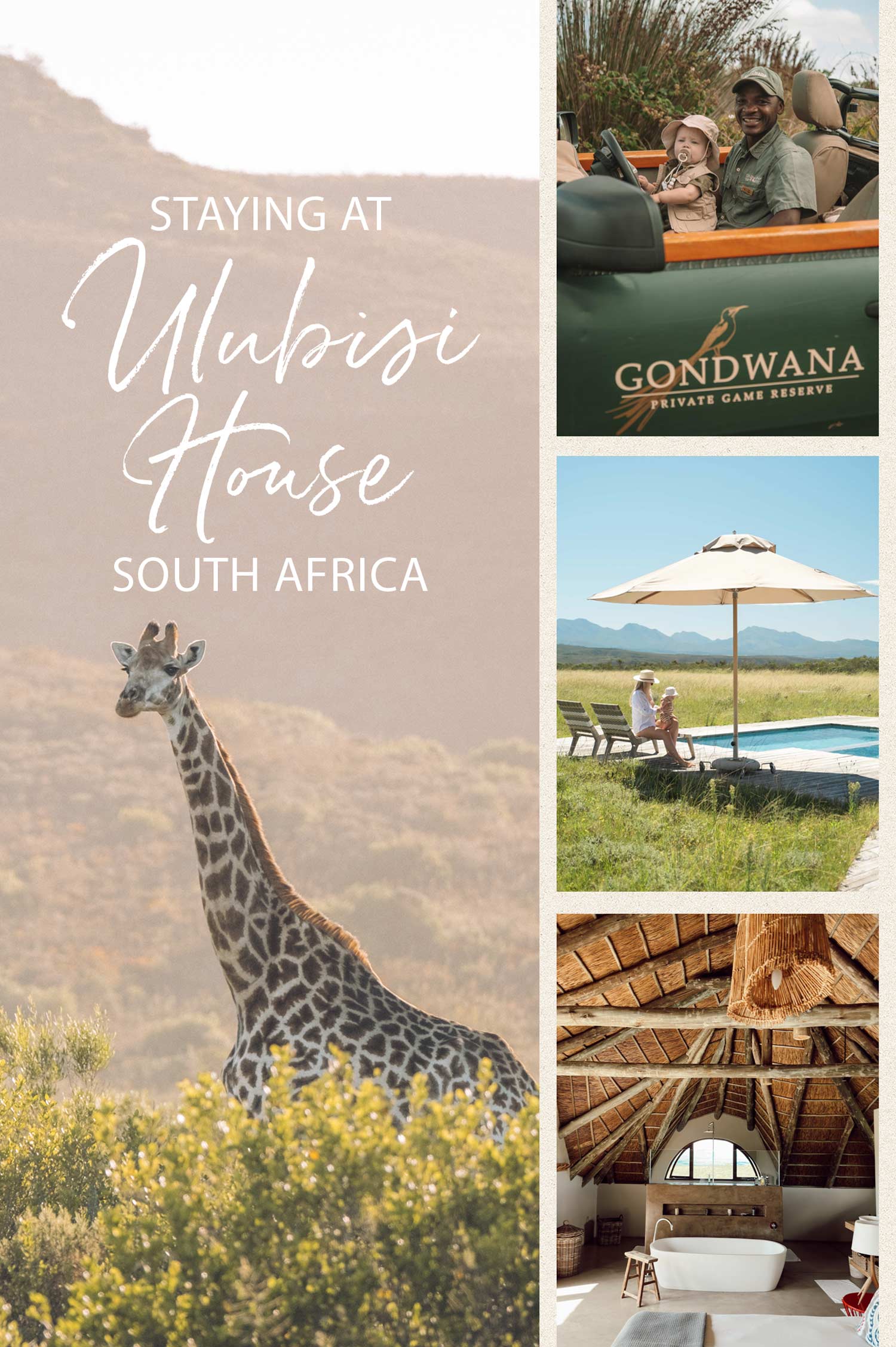 I first stayed at Gondwana Game Reserve in 2017, in one of their Kwena Huts, when I moved to South Africa. It was my first African Safari and has held a special place in my heart ever since.
So much so, that we bring all of our guests on my all-female tours in South Africa here!
For anyone traveling to Cape Town or planning to drive the Garden Route who wants to experience a safari, Gondwana Game Reserve is the perfect destination. Located about a 5-hour drive from Cape Town, guests can experience the thrill of a Big 5 safari without having to travel far.
Though I no longer live in South Africa, we return every year. Most recently, we brought our 8-month-old son "home" with us and we couldn't wait to take him on his first safari.
So, we stayed at Ulubisi House, Gondwana's luxurious private villa—complete with your own personal Butler, Chef, and Field Guide!

About Gondwana Game Reserve
Gondwana Game Reserve is a breathtaking wildlife conservation area located in the Western Cape of South Africa. Situated in the heart of the famous Garden Route, this private game reserve covers approximately 11,000 hectares (27,182 acres) of pristine wilderness and diverse ecosystems.
It is a remarkable destination for wildlife enthusiasts, nature lovers, and travelers seeking a unique African safari experience.
Gondwana is home to a wide variety of wildlife, including the iconic "Big Five" – lion, leopard, elephant, buffalo, and rhinoceros. In addition to these majestic creatures, you can also spot cheetahs, giraffes, zebras, various antelope species, and an incredible array of birdlife.
The reserve's commitment to conservation has helped restore these species to their natural habitats.
Gondwana Game Reserve provides a range of accommodation options, catering to different preferences and budgets. I've shared my experience staying in their Kwena Huts and I'll give all the incredible details of our stay at Ulubisi House below!

About Ulubisi House
Ulubisi House takes luxury to a whole new level. The architecture seamlessly blends modern sophistication with the raw beauty of the African wilderness. My jaw dropped as I entered the villa, which featured panoramic views of the reserve's captivating landscape.
The décor, inspired by local craftsmanship, added an authentic touch to the overall ambiance.
My favorite part? The open-plan living area opens up to a massive infinity pool overlooking the rolling hills. This is where we spent our afternoons, lounging under the South African sun and taking in the stunning scenery.

The Ulubisi House Experience
Ulubisi House is tucked away in the reserve's 1000-hectare protected walking area for endangered species—meaning predators cannot access this particular area.
An essential level of safety when bringing young children to a game reserve!
The property also comes with a full staff and twice-daily housekeeping with turndowns. The villa features its own butler, chef, and field guide and sleeps either 6 adults or 4 adults and 4 children between three bedrooms.
Your butler helps to organize and be of service your entire stay. Whatever you need, he will ensure it is taken care of. All meals and beverages are inclusive of your stay — and the food was incredible!
We enjoyed three beautiful meals, as well as afternoon tea and snacks, every day.
The entire experience was so luxurious and private, that I could not think of a better way to experience safari as a family!

Private Game Drives
One of the most special aspects of staying at Ulubisi House is having your own private game vehicle and field guide. As a family with an infant, this was incredible. Typically, you go on game drives at set hours (once in the early morning and once in the late afternoon) in a vehicle with other guests.
At Ulubisi House, you make your own decisions!
While game drives are best during certain hours of the day, you're not held to a schedule. Our incredible guide, Felix, greeted us every morning and afternoon with a smile and brought so much joy to our experience. If you have the option, I'd highly recommend requesting him!
We stayed 2 nights and went on 4 game drives during our stay. We saw ALL kinds of wildlife including lots of baby animals, a cheetah with a kill, and had an incredible encounter with a male lion.

Game Drives with Kids
If you are traveling with kids, note that children under 2 aren't permitted on game drives, and children under 6 aren't permitted on game drives with other guests.
That means guests at Ulubisi House have the unique opportunity to "bend" the rules. Because we had our own private vehicle, we were allowed to do a "baba drive" for our infant at our leisure in the protected area of the reserve where there are no predators (aka lions).
We went out for about 45 minutes (before our planned evening game drive) with the baby fully expecting it to last 10 minutes before we needed to turn back,
But, he absolutely LOVED it! We got to see zebra and some other VERY special animals. And, we captured some absolutely heart-melting photos that we will treasure for a lifetime.
Helpful Tip:
I won't go into too much detail about going on safari with a baby here (that'll be it's own post!), but the ONLY way you can bring a baby on an actual game drive is with a private vehicle. Understandably, safari is a once-in-a-lifetime experience and babies are unpredictable. You can't stop the drive and ruin the safari for other guests.

And, most importantly, you cannot bring a crying baby into the wild without attracting the attention of predators like lions. Ulubisi House guests have the unique opportunity to take kids on private game drives in an area that is completely protected from predators.

Staying at Ulubisi House with a Baby
We opted to bring everything our baby would need for his stay (pool float, bottles, baby monitor, etc.) but you can reach out ahead of your stay to organize a cot and highchair.
One thing we knew we'd want to take advantage of is their babysitting service.
Because game drives are typically early morning (6 am-ish) and late afternoon (4 or 5 pm-ish), and can last 3+ hours, they're just not the same life-changing experience for young children as they are for us.
Babysitting is R150 per hour and you should coordinate well in advance.
Gondwana was incredibly helpful in organizing a babysitter for us. She arrived early so we could make sure the baby and ourselves were comfortable with the situation. We had her watch the baby for all game drives (4 in total) during our 2-night-stay and I'd do it all over again in a heartbeat.
We got to experience incredible encounters with lions, elephants, and all kinds of wildlife, while our little one was safe and cared for at Ulubisi House.


Getting There
Getting to Gondwana Game Reserve from Cape Town is a relatively straightforward journey, and you have several transportation options. The reserve is situated along the Garden Route, making it accessible by road or air. Here's how you can reach Gondwana Game Reserve from Cape Town:
1. By Car:
Duration: The drive from Cape Town to Gondwana Game Reserve takes approximately 4.5 to 5.5 hours, depending on traffic and the exact location of your starting point in Cape Town.
Note: There are lots of rest stops and padstals (farm stands) along the drive so be sure to stop frequently to stretch and snack. Our favorite stops from Cape Town to Gondwana are Peregrine Farm Stall and Ou Meul Bakkery (there are a few along the drive!).
2. By Air:
Duration: The nearest airport to Gondwana Game Reserve is George Airport (GRJ), which is approximately a 1.5 to 2-hour drive from the reserve.
Flights: You can book a domestic flight from Cape Town International Airport (CPT) to George Airport (GRJ). Several airlines operate flights on this route, including South African Airways (SAA), Mango, and FlySafair.
Note: While flying is a faster option, renting a car allows you to explore the beautiful Garden Route region at your own pace.
Helpful Tip:
Gondwana Game Reserve offers transfer services from George Airport and Mossel Bay to the reserve. You can arrange these transfers through the reserve's reservation office. This option is convenient if you prefer not to drive.

Where is the best place to go? When is the prime time to spot animals? What should I pack? Here is the ultimate guide to going on safari in Africa!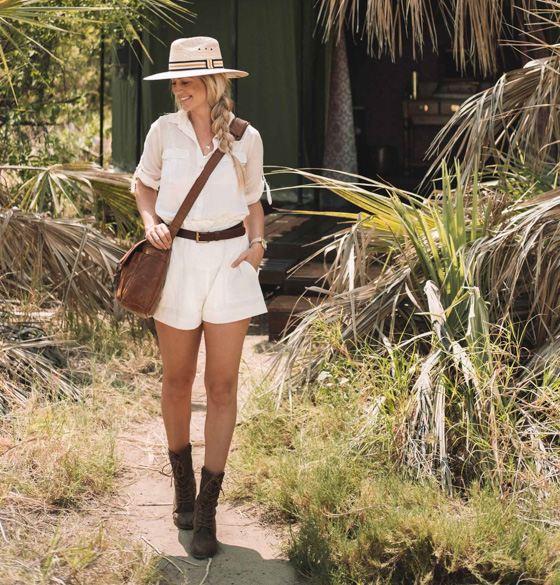 A cute safari style means comfortable layers that will keep you warm. Here's my ultimate safari packing list, plus what to expect on an African safari!