Alongside the iPhone 15 and iPhone 15 Pro models, Apple yesterday debuted a new version of the AirPods Pro 2 with a USB-C charging case. The swap to USB-C instead of Lightning is the primary new feature, but Apple also updated audio quality in a way that may upset some of its customers.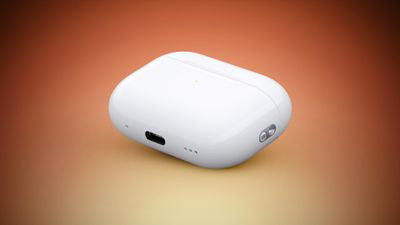 As we highlighted yesterday, the new ‌AirPods Pro‌ feature additional dust resistance and support for 20-bit 48kHz lossless audio when connected to the Vision Pro headset. At the time, it seemed unusual that Apple would limit a key audio feature to the new ‌AirPods Pro‌ 2 when the original version is just a year old, but that's exactly what Apple has done.
According to the latest PowerOn newsletter from Bloomberg's Mark Gurman, Apple confirmed that Lossless Audio will not be available on the ‌AirPods Pro‌ 2 with Lightning charging case, and it is indeed a feature limited to the new USB-C ‌AirPods Pro‌ 2.
Apple in a press release announcing the ‌AirPods Pro‌ 2 with USB-C charging case touted the new audio feature, calling it the "perfect true wireless solution" for Vision Pro.
AirPods Pro (2nd generation) with MagSafe Charging Case (USB‑C) will enable Lossless Audio with ultra-low latency to deliver the perfect true wireless solution with Apple Vision Pro. The H2 chip in the latest AirPods Pro and Apple Vision Pro, combined with a groundbreaking wireless audio protocol, unlocks powerful 20-bit, 48 kHz Lossless Audio with a massive reduction in audio latency.

When Apple Vision Pro is available early next year in the U.S., customers will be able to enjoy the most advanced wireless audio experience in the industry with the new AirPods Pro for exceptional entertainment, gaming, FaceTime calls, and so much more.
Customers who want to be able to use Lossless Audio with Vision Pro for this audio experience will need to purchase the new ‌AirPods Pro‌ 2, which are available for $249. The Vision Pro headset itself is set to be priced at $3,500.
Popular Stories