Hermès has debuted its new Apple Watch Series 9 case and band collection, including some new leather band options not available from Apple's website.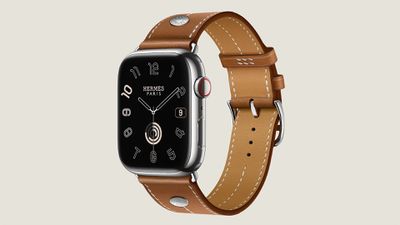 Apple has removed all leather iPhone cases and Apple Watch bands – including Hermès bands – from its website as part of a significant new sustainability push. However, as part of the continuing partnership between Apple and Hermès, the luxury watch boutique is free to continue selling ‌Apple Watch Series 9‌ models with bands made of calfskin.
Among several new Hermès Single Tour and Double Tour bands made of knitted nylon and woven nylon, several color options made of calfskin can be found. Prices for Hermès ‌Apple Watch Series 9‌ bands range from $349 to $589, while watch and band combinations range from $1,249 to $1,539.
All of the bands are available to pre-order today. Hermès will begin shipping orders after September 22, according to its website.
As for Apple, the company on Tuesday announced a new textile it's calling "FineWoven," which is made of 68 percent post-consumer content and is overall more environmentally friendly compared to the company's previous line of leather accessories. Apple also confirmed it will no longer use leather for new Apple accessories.
Thanks, KPOM!
Popular Stories