At today's iPhone 15 event, Apple introduced an add-on feature to Emergency SOS via Satellite called Roadside Assistance via Satellite. The feature is similar to Emergency SOS, but it allows iPhone users to contact roadside assistance if they have car trouble in an area without cellular or Wi-Fi connectivity.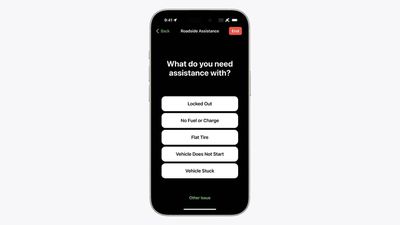 Roadside Assistance via Satellite is available for the ‌iPhone 15‌ models, but it is also a feature that is retroactively available for the iPhone 14 lineup. Available in the United States, roadside assistance is being offered through a partnership with AAA.
The functionality is included in an AAA membership, but Apple said that ‌iPhone‌ users can also get access separately. The company did not provide details on what it would cost without an AAA membership, but AAA is priced starting at $65 per year.
As with Emergency SOS via Satellite, you can text roadside assistance and choose what you need help with. Options demonstrated at the event included flat tire, no fuel, locked out, vehicle stuck, and vehicle does not start.
Apple includes two years of Emergency SOS via Satellite and Roadside Assistance via Satellite connectivity for free with the purchase of an ‌iPhone 14‌ or ‌iPhone 15‌. Note that in the case of Roadside Assistance, you need the satellite connectivity and to pay the additional fee to AAA.
Popular Stories