Apple's iPhone 15 Pro models will be available with a new 2TB maximum storage option, claims a new rumor coming out of China.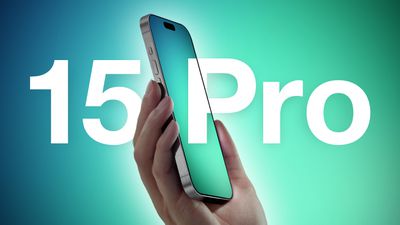 According to news aggregator account "yeux1122" on the Korean Naver blog, a supplier source has confirmed that the iPhone 15 Pro and iPhone 15 Pro Max will be available with double the maximum storage capacity as the iPhone 14 Pro models.
In addition, MacRumors has discovered a Weibo account that posted over the weekend making the same claim, while adding that the Pro models are likely to start with a minimum of 256GB storage rather than the current base 128GB capacity on iPhone 14 models.
In the latter scenario, Apple would be able to maintain four available storage tiers – 256GB, 512GB, 1TB, and 2TB. Such storage bumps could also dovetail with rumors that Apple is set to increase the price of iPhone 15 Pro models this year.
Both Bloomberg reporter Mark Gurman and tech analyst Jeff Pu say they expect price hikes for this year's Pro models. Pu believes the iPhone 15 Pro could be priced starting at $1,099, up from the $999 starting price of the iPhone 14 Pro. If that's accurate, the iPhone 15 Pro Max could be priced starting at $1,199.
Of course, it's also possible that the 2TB rumor is off the mark and that Apple is simply increasing the cost of the devices to boost revenue amid a decline in the smartphone market. Note that last year's iPhone 14 Pro models were also rumored to come in a 2TB option, but that didn't happen.
Apple first added a 1TB storage option for the ‌iPhone 13‌ Pro and ‌iPhone 13‌ Pro Max in 2021. The new option was due primarily to new camera features, such as ProRes video, which consumes significantly more storage than regular videos.
For example, to record ProRes video in 4K at 30 frames per second, an iPhone 14 Pro model with a 256GB, 512GB, or 1TB storage capacity is required. ProRes video recording is limited to 1080p at 30 frames per second on iPhone 14 Pro models with a 128GB storage capacity. If Apple did increase the base storage of the iPhone 15 Pro to 256GB, all models would become capable of recording ProRes in 4K at 30fps.
We'll know for sure what Apple has in store for the iPhone 15 Pro in just over a month. Apple's annual iPhone event is expected to take place on either Tuesday, September 12, or Wednesday, September 13, according to Gurman.