Initial customer demand for the new 15-inch MacBook Air has been "weaker than expected," according to a DigiTimes report citing sources within Apple's supply chain. The report claims that 15-inch MacBook Air shipment volume in July has been 50% less than originally estimated amid a broader downturn in the notebook market.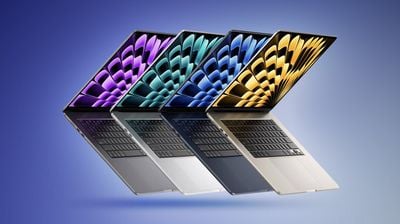 As a result of this "poor start," the report claims that some Apple suppliers have requested a reduction in 15-inch MacBook Air shipments.
Launched at WWDC last month, the 15-inch MacBook Air starts at $1,299 and has the same design and M2 chip as the 13-inch model, but with a larger display and two extra speakers. It is the first time that Apple has offered a 15-inch display for the MacBook Air, which was previously only available in 13-inch and discontinued 11-inch size options.
It's unclear if 15-inch MacBook Air demand has met Apple's own internal expectations so far. Apple is set to report its third quarter earnings results on August 3, and it may share some comments about the laptop then. Other new Macs launched during the quarter included spec-bumped Mac Studio and Mac Pro models.
The report claims that the MacBook supply chain can look forward to the "upcoming announcement" of a new MacBook Pro, without providing any additional details. The publication previously claimed that Apple plans to release a new 13-inch MacBook Pro with an M3 chip later this year. The M3 chip is widely expected to be fabricated with TSMC's 3nm process for significant performance and power efficiency improvements compared to the 5nm-based M2 chip in the existing 13-inch MacBook Pro.
Popular Stories