Popular accessory maker Nomad today announced the reintroduction of the ChargeKey, a classic Nomad product that has been updated with a new look and with 2023 performance standards.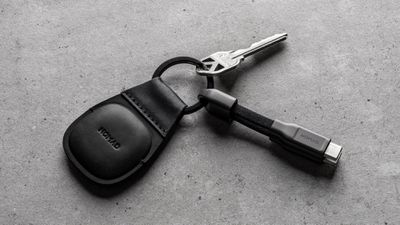 The ChargeKey is a pocketable charger that attaches to a keychain. It features magnetic tips that connect to one another when the ChargeKey is not in use, and then when needed, the two halves fold out into a small charging cable with a durable, braided design. When folded, the ChargeKey is 7.6cm long, and when unfolded, it is 12cm.
There's a USB-C version of the ChargeKey with two USB-C connectors for charging an iPad, Mac, or future USB-C iPhone with a USB-C power adapter, and there's also a Lightning version with a Lightning connector for the iPhone and a USB-C end that connects to a computer or power adapter. It can fast charge an ‌iPhone‌ up to 20W with an appropriate power adapter.
Back when Nomad launched in 2013, the ChargeKey was one of its first products. The old version was available with Lightning and microUSB, compared to the new version with USB-C connectivity. We were able to test out the ChargeKey ahead of launch, and it is an ideal portable charger for use when you need a cable on the go. It should stand up well to abuse with its braided cable.
Nomad's Lightning ChargeKey is priced at $35, and the USB-C ChargeKey is priced at $25.
Popular Stories