Accessory company ESR has launched a Kickstarter campaign for its upcoming 100W 6-in-1 Charging Station, which supports an array of devices across Apple's ecosystem.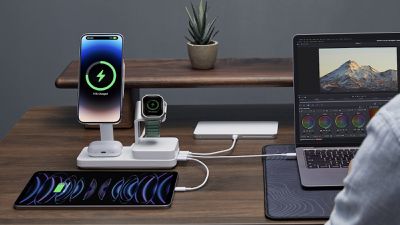 Like many triple device chargers, the 6-in-1 Charging Station includes a MagSafe charging surface for an iPhone, an officially certified Apple Watch charger, and a spot for charging AirPods, but it also includes two USB-C ports and a USB-A port for charging additional devices over wired connections.
ESR's wireless phone charging surface is official MagSafe-certified, so it can charge devices at the full 15-watt speed of the specification. It also includes ESR's "CryoBoost" fan and heat dissipation technology integrated into the charging surface to help keep your device cool, protecting battery health and letting your phone charge at the fastest speeds for longer.
The integrated 5-watt Apple Watch charger supports the same speeds as Apple's official chargers, including fast charging for the Series 7, Series 8, and Ultra. The AirPods wireless charging surface also runs at 5 watts, allowing for full-speed charging.
When it comes to wired charging, you'll find the two USB-C ports and single USB-A port lined up along the right edge of the device, and the power available to each depends on how many are in use.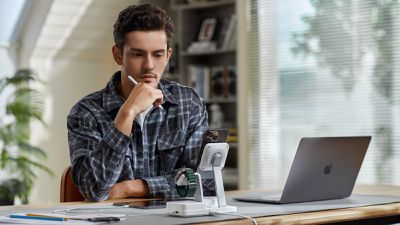 There are obviously a lot of possible combinations of devices, but in order to get 100-watt charging out of either of the USB-C ports, you'll need to have only a single device connected. If you're using any of the wireless charging surfaces, that drops the single USB-C maximum to 65 watts. And of course adding more devices to the mix will reduce the power available to each one.
A fully utilized charging station will be able to provide 40 watts to the first USB-C port, 20 watts to the second USB-C port, 5 watts to the USB-A port, and then 25 watts divided among the wireless chargers to maintain full charging speeds on those.
ESR is using the latest GaN technology for efficiency and to minimize the bulk of the charging station, and there is no additional power brick needed, only a removable 1.8-meter power cord specific to the socket type in your region.
The Kickstarter campaign is live now and has already met its funding goal but will run through September 1. Shipments to the U.S., Canada, and select European countries will begin in October, as will sales through Amazon. ESR is offering a couple of discounted pricing tiers for the Kickstarter campaign, including a limited Super Early Bird tier priced at ~$143 and an Early Bird tier at ~$154. The retail price once it officially launches will be $179.
Note: MacRumors is an affiliate partner with Kickstarter/ESR. When you click a link and make a purchase, we may receive a small payment, which helps us keep the site running.