When you think of Dubrovnik, you envision an old town that offers discreet luxury. This image is relatively accurate. Dubrovnik's medieval walls rising from the Adriatic Sea cut such a beautiful sight that they attract everyone from tourists to Hollywood producers. There are luxury hotels in Dubrovnik hidden by old city walls and walking distance from the best restaurants and iconic attractions – like the Dubrovnik cable car. Dubrovnik is perfect for combining seaside relaxation with cultural sightseeing. And the sheer amount of luxury hotels makes it a dreamy five-star destination.
In this guide, we'll cover the ultimate luxury hotels in Dubrovnik. Whether you want one of the leading hotels in the city center or an outskirt boutique hotel opening onto a pebble beach, Dubrovnik is overflowing with luxury.
Best Areas to Stay in Dubrovnik, Croatia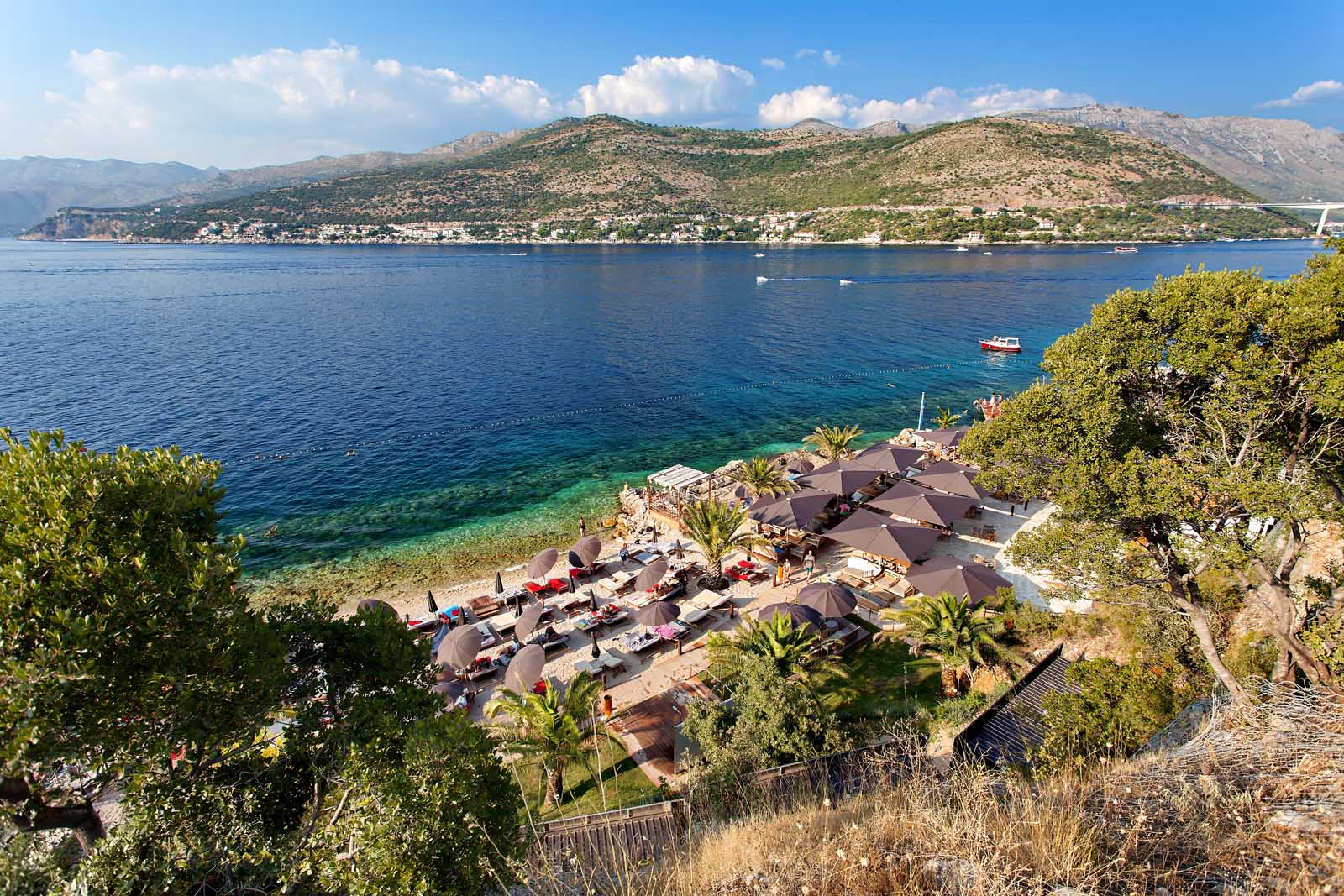 Before we get into the best luxury hotels in Dubrovnik, it's vital to get a grasp of the city layout. We already have a complete guide on where to stay in Dubrovnik, area by area. However, we will quickly summarise to provide you with a quick overview. Dubrovnik is best explained by splitting it into four sections that encompass six neighborhoods: Old Town, Pile, Ploce, Gruz, Lapad, or Babin Kuk. If you scroll to the bottom of this post, we have a clear breakdown of each neighborhood.
1. Hotel Dubrovnik Palace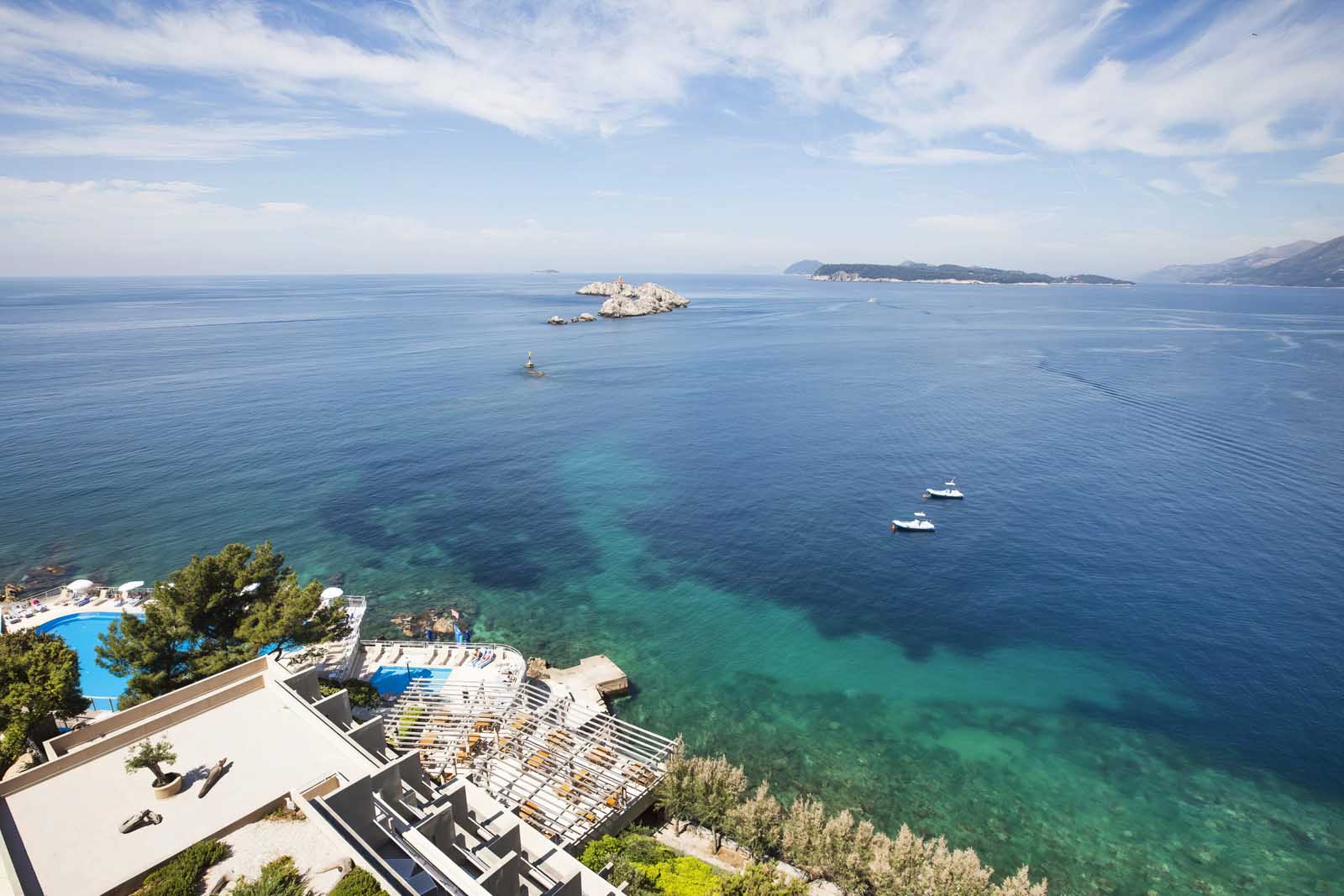 Regarding facilities, Hotel Dubrovnik Palace is one of the most impressive Dubrovnik luxury hotels. This Lapad-based luxury hotel has a private beach and a scuba diving center. Hotel Dubrovnik Palace also has an outdoor swimming pool, indoor swimming pool, fitness center, spa, and wellness center with a steam room. Seriously, any hotel with its own scuba diving center deserves its five stars – and the facilities at Hotel Dubrovnik are what bagged it its spot on our guide. The laidback beach vibe of Lapad is just the cherry on top.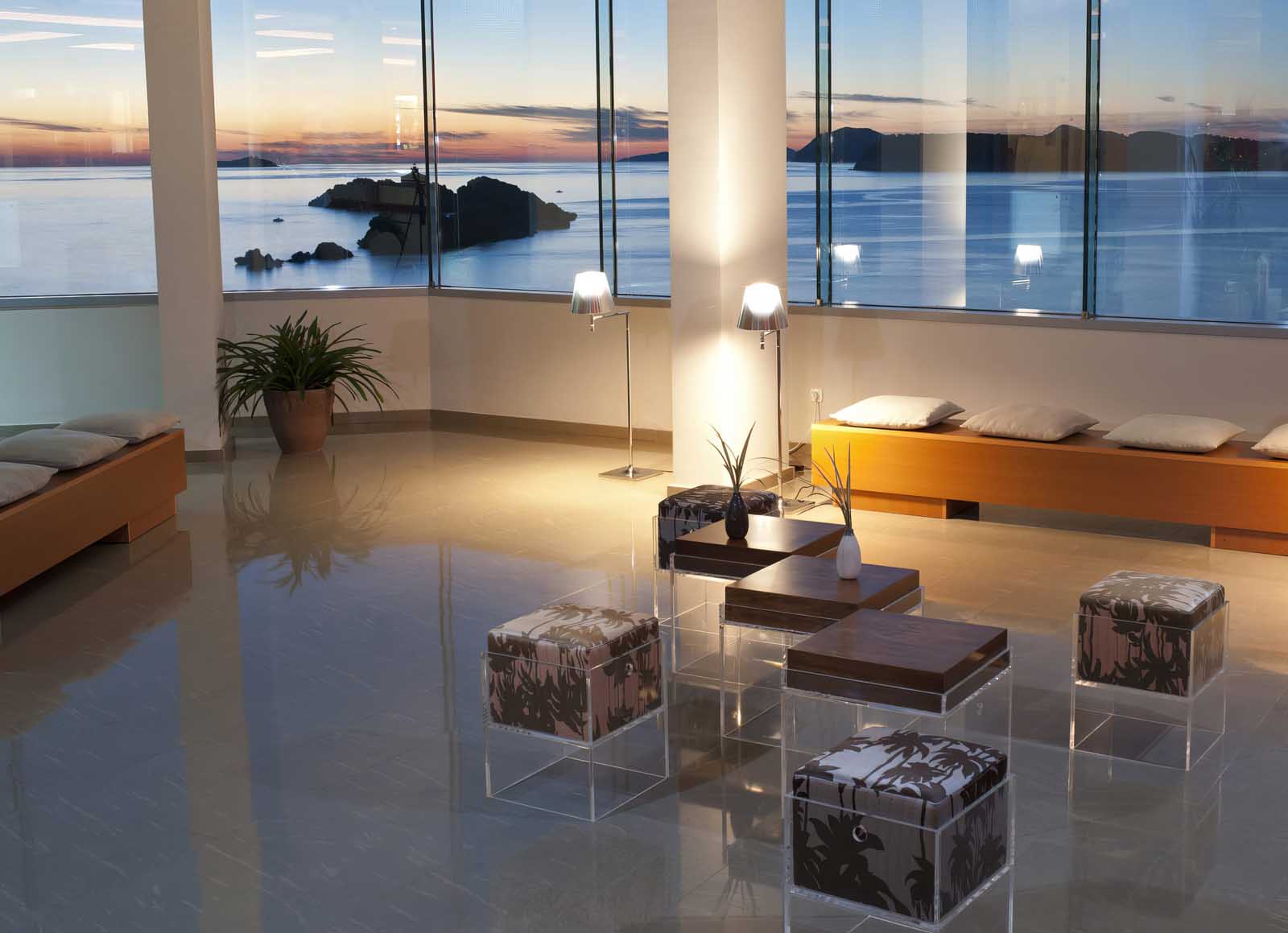 All guest rooms are furnished with earthy color palettes and minimalistic decor. Guests get a private balcony in every room choice, most of which have Elaphite Islands views. And even when you do wish to venture out of the hotel, the bus to the Old Town leaves from directly outside. Hotel Dubrovnik Palace is top of our list of the best luxury hotels in Dubrovnik.
2. Hotel Bellevue Dubrovnik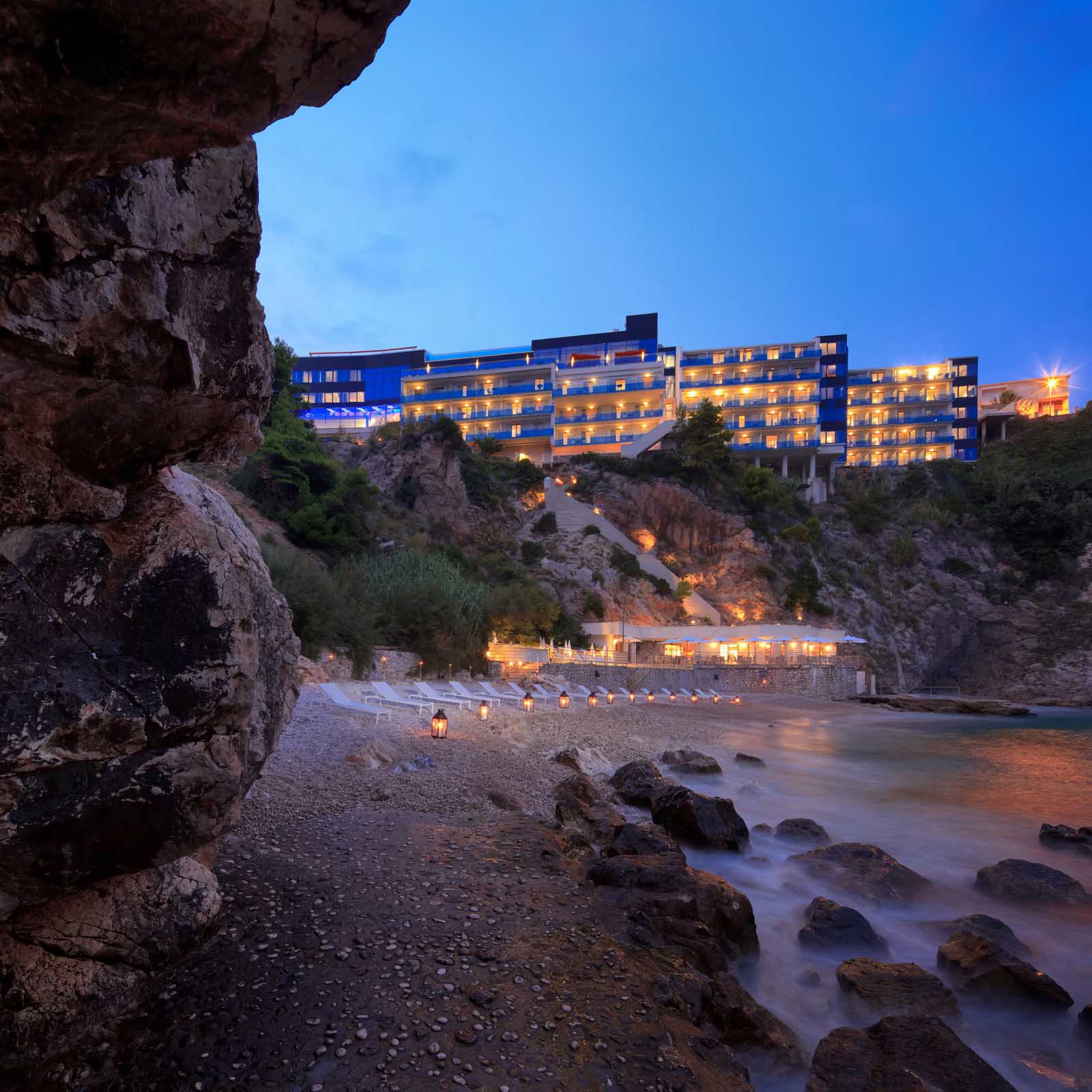 Hotel Bellevue Dubrovnik is our vote for one of the best hotels in Dubrovnik for a light, airy aesthetic. This boutique hotel has a nautical theme, with white, coastal-inspired furnishings throughout each room. This design scheme makes Hotel Bellevue Dubrovnik one of the city's best hotels for guests wanting a serene-feeling hotel. Plus, given that the boutique hotel is set on a sea cliff above Miramare Bay, the nautical theme is fitting to look over the ocean. Hotel Bellevue Dubrovnik is luxurious without trying too hard – which we love.
Facilities are also worth discussing for this luxe boutique hotel. Hotel Bellevue Dubrovnik has an indoor pool, access to a pebble beach, a wine bar with over 180 wines, and an a la carte restaurant. It also firmly ticks the spa and wellness center boxes, providing a gym and spa with a sauna. Located between the Old Town and Pile, it is ideally situated for some peace and quiet yet within walking distance of the city walls.
3. Royal Palm Hotel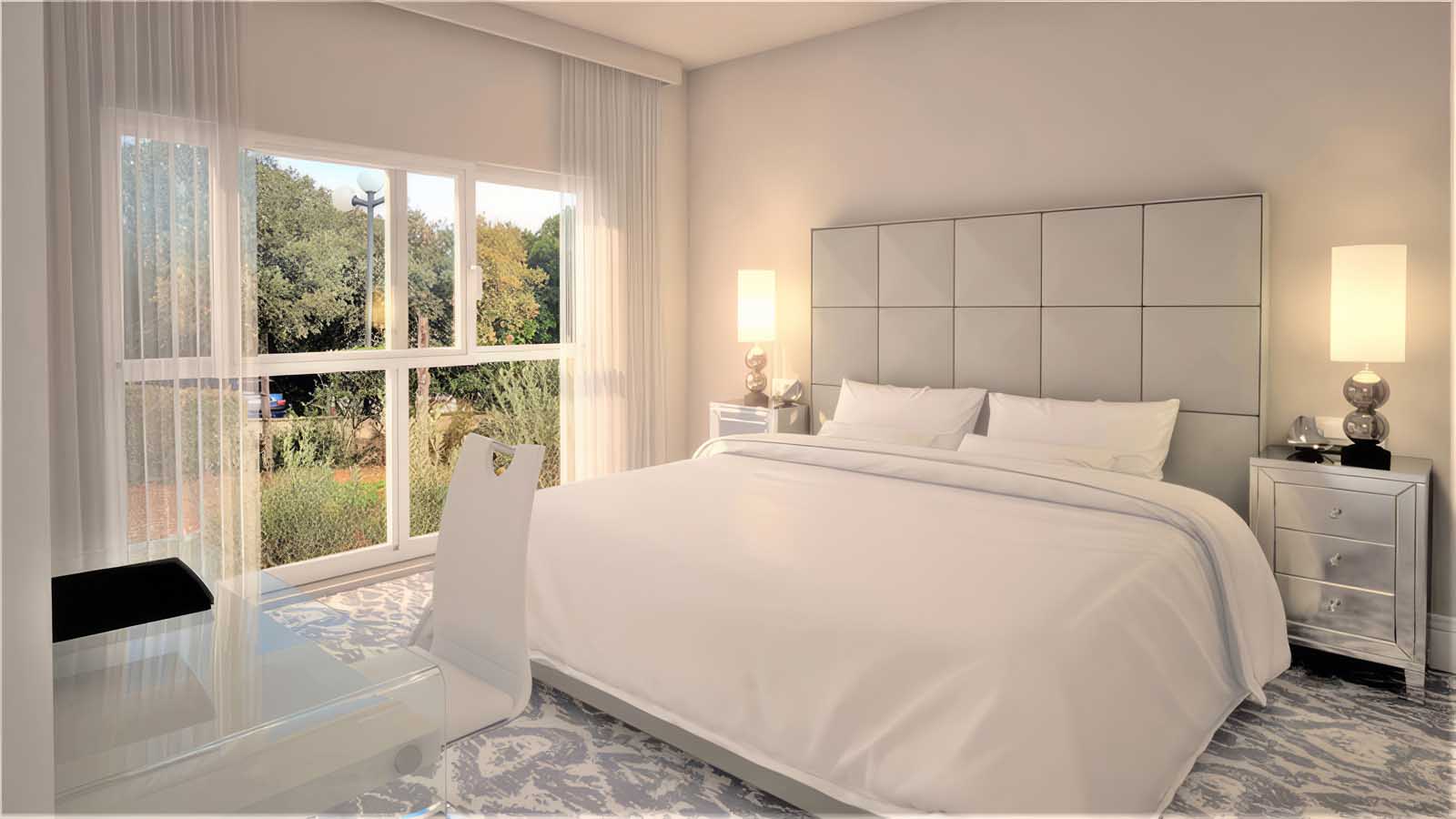 Royal Palm Hotel is the most modern of the leading hotels in Dubrovnik. The hotel features white and bright guest rooms with air conditioning and floor-to-ceiling windows in most rooms. Royal Palm Hotel is located in the Babin Kuk neighborhood – amongst the beach life and more laidback Dubrovnik way of living. However, it retains a sense of inner-city hospitality, which we liked.
Breakfast is available each morning at the a la carte restaurant. The wellness center at Royal Palm Hotel is a generous size. You can book in for spa treatments and there's a fitness center to challenge yourself to a workout. The best part of its facilities is the huge sun terrace – ideal for embracing your inner lizard and reclining on a lounger with a good book. From Royal Palm Hotel's sun terrace, you have views over the Adriatic Sea and a wine bar to treat yourself to an alcoholic beverage. It has all the modern comforts but the laidback beach locale as well. A blissful compromise for the modern luxury hotel seeker.
4. Hilton Imperial Dubrovnik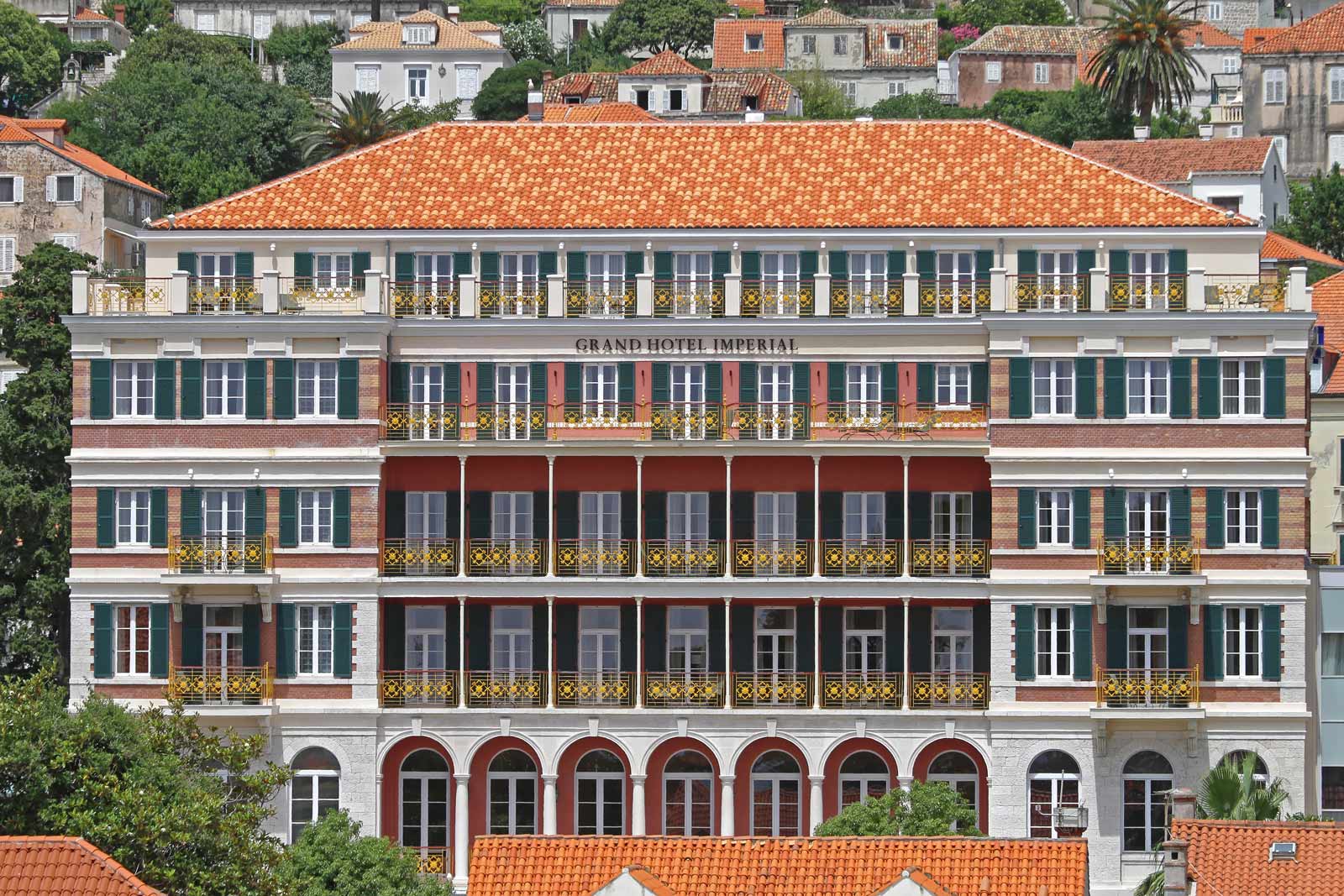 Hilton Imperial Dubrovnik is one of our top luxury hotels in Dubrovnik. This luxury hotel looks nothing short of regal. Hotel Imperial Dubrovnik juts out from miles of forest and smaller orange-roofed buildings. The historic five-star hotel is a multi-story masterpiece dating back to 1897. It is located on the outskirts of Ploce. The trendy, just-out-of-grasp location is a quieter alternative to the frantic tourist mecca of the Old Town – and just a short walk from major attractions. Its iconic appeal is why we couldn't miss out on adding the Hilton Imperial to our guide to the best luxury hotels.
You won't be surprised to learn that Hilton Imperial has fantastic facilities. The lobby bar, lounge, and terrace have views over the city walls and afternoon tea for anyone with a sweet tooth. A spa and wellness center is a given for luxury like this, as is an indoor pool. The 19th-century architectural style has been maintained throughout each room, and spending a day relaxing in Hilton Imperial is beautiful.
5. Villa Dubrovnik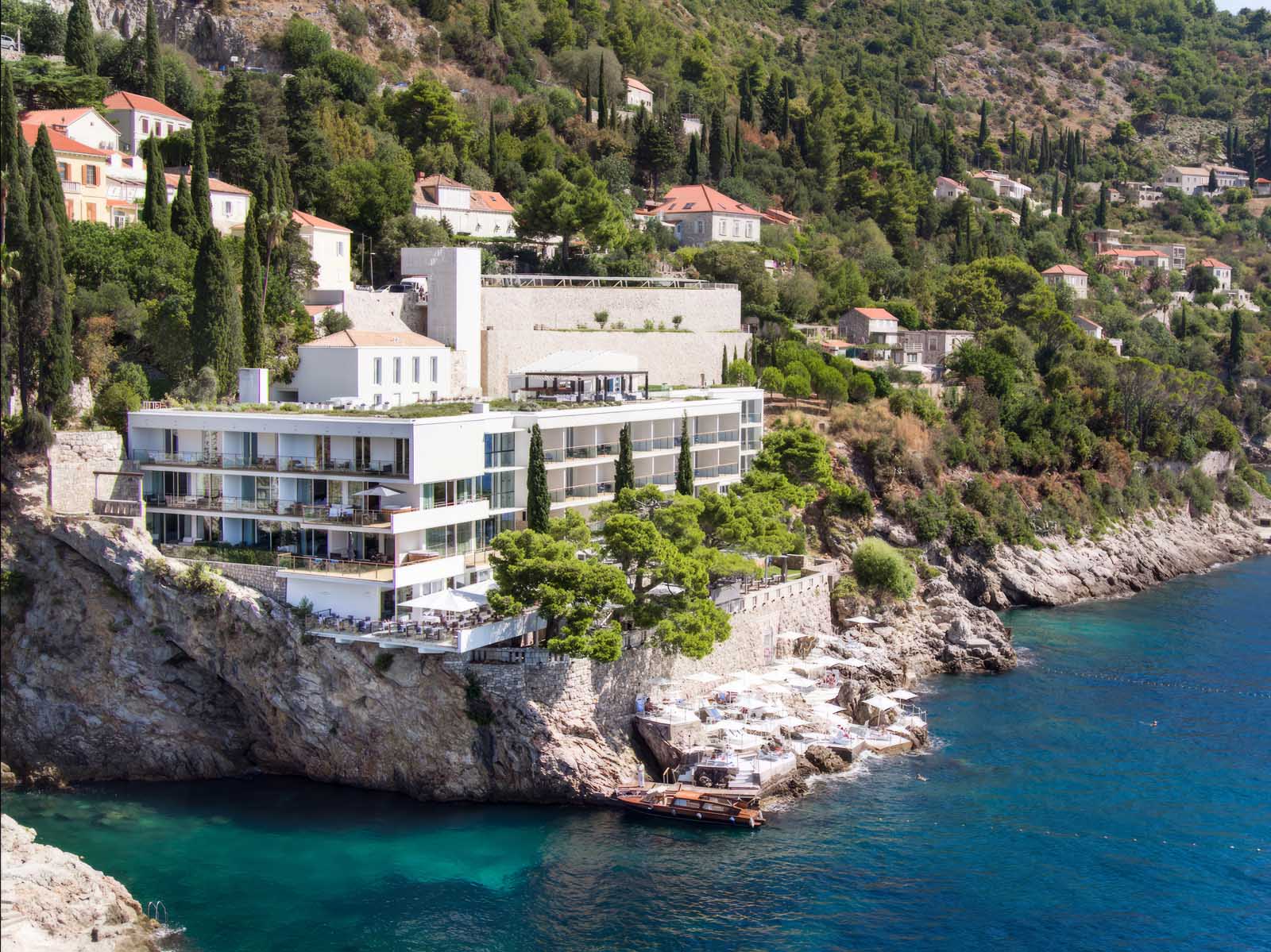 Villa Dubrovnik is an exceptional boutique hotel just outside Ploce – the trendy outer neighborhood we discussed earlier. The glitzy white hotel straddles a cliff that half hangs over the ocean. As far as scenic locations go, Villa Dubrovnik pulls the top trump. It is no wonder that it is ranked as one of Dubrovnik's best boutique hotels. We were struck by its location, aesthetic, and other vital aspects – like the complimentary car transfers to the Old Town. The summer transfers overcome the only negative of staying in Ploce, meaning you get easy access to the Old Town and peace and quiet.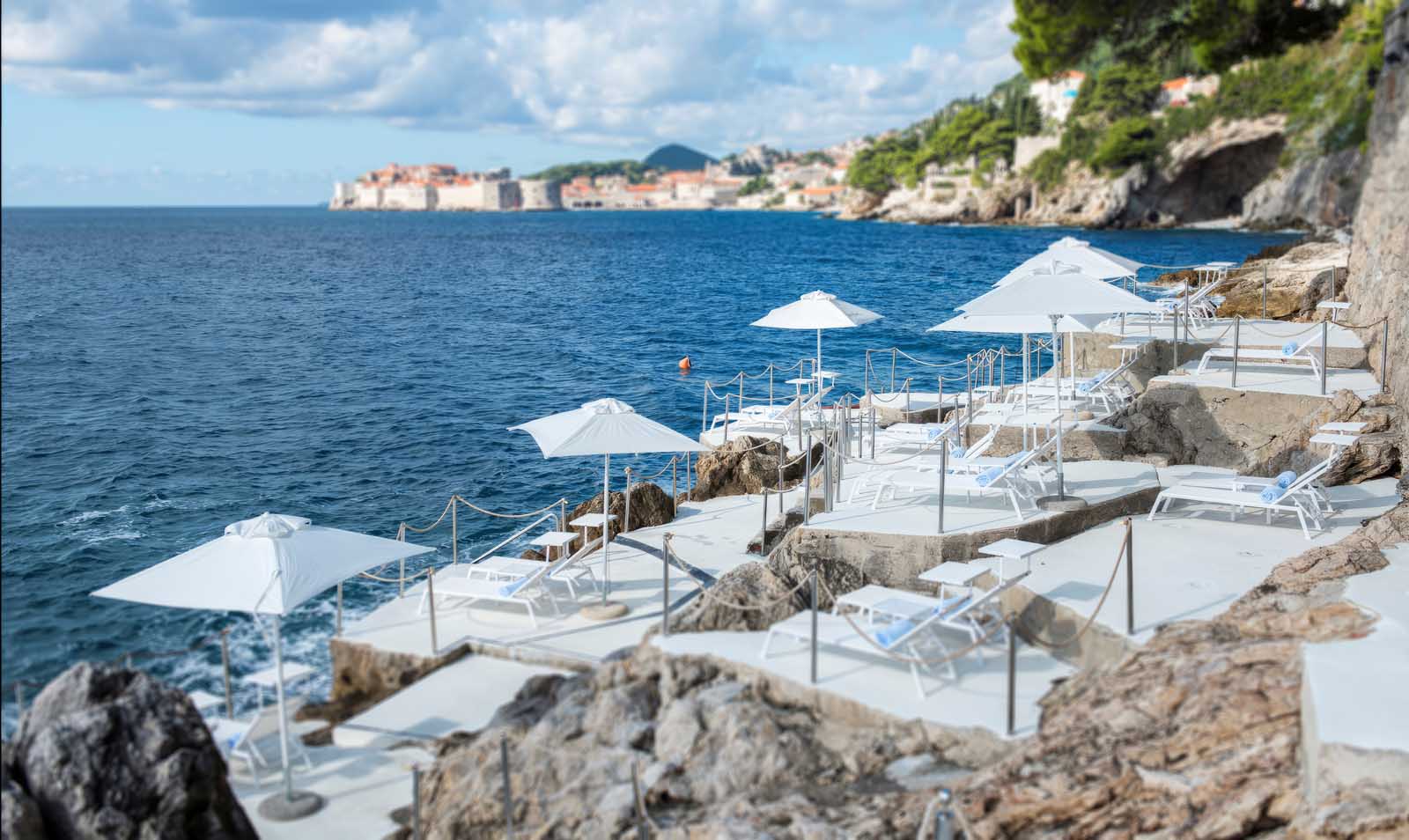 Inside Villa Dubrovnik, an onsite restaurant serves Mediterranean cuisine and breakfast. A stunning library room and lounge have comfy furnishings like sink-into-the-fabric-style armchairs. The hotel uses a fantastic balance of indoor and outdoor space too. For instance, featuring an indoor pool that extends into an outdoor terrace with parasols and sun beds. Guest rooms have private terraces and balconies.
6. Hotel Excelsior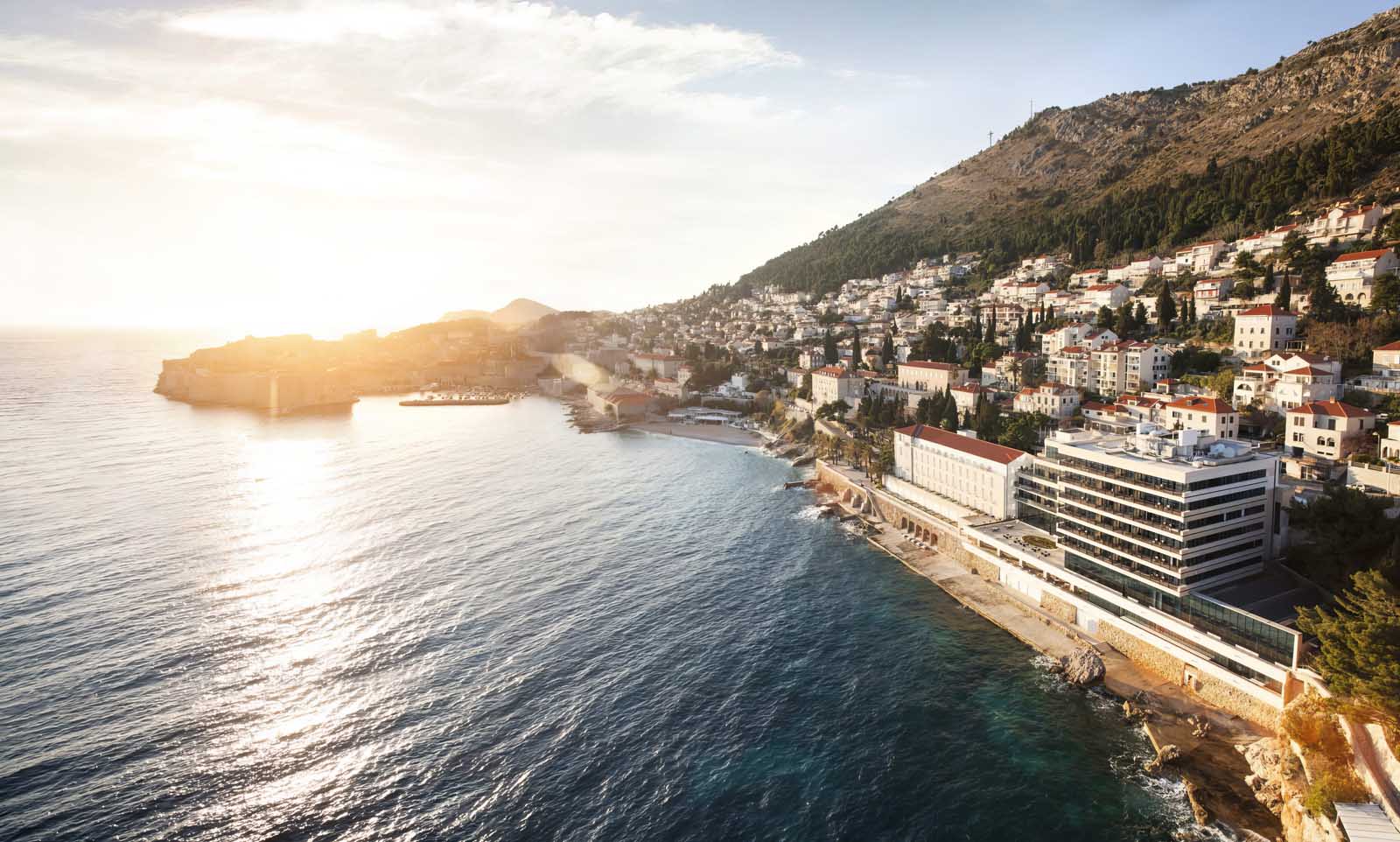 Nothing is standard about Hotel Excelsior. It is as much a local landmark as it is one of the best luxury hotels in Dubrovnik. Full of original artwork and severely elegant, sleek furnishings, Hotel Excelsior is a beautiful place to stay. Hotel Excelsior is a short walk from the old city center. Located smack bang in the middle of Ploce, it's suitably trendy and ideal if you are looking for an alternative-style luxury hotel experience in Dubrovnik.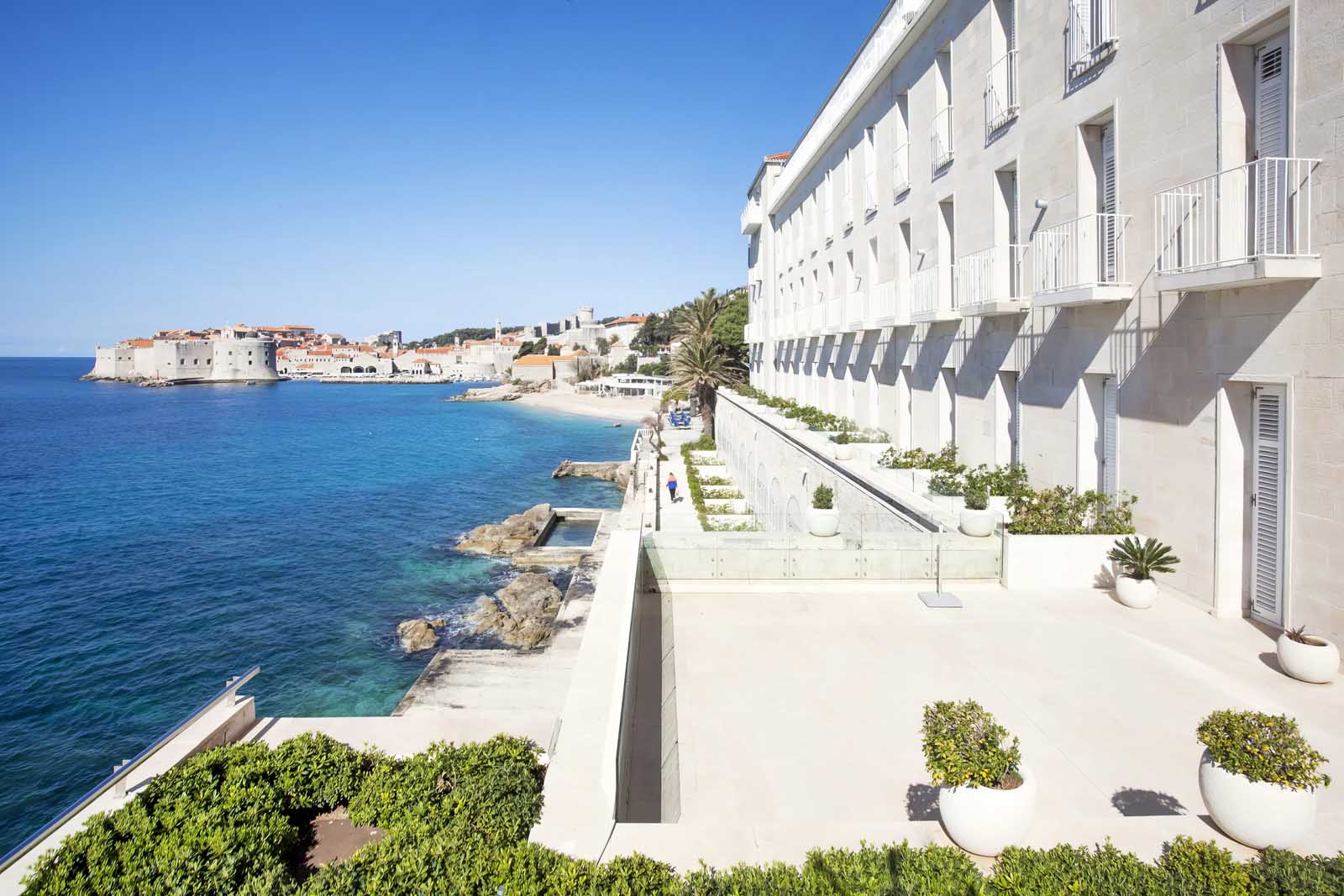 Hotel Excelsior is one of the top five-star hotels within walking distance of the Old Town. The hotel has two onsite restaurants and a piano bar. Unfortunately, there are no outdoor pools at Hotel Excelsior. But honestly, Banje Beach (a rock and concrete beach) is so close by that you don't need one. Besides, with a freshwater indoor pool and spa area with a hammam and hot tubs – it really is a small price. Its location and facilities are what won us over.
7. Boutique Hotel Stari Grad
Boutique Hotel Stari Grad is one of those boutique hotels that take the plush furnishings route. Everything is indulgent – even down to the hydromassage showers and location in the center of the Old Town. Boutique Hotel Stari Grad is the best option for a boutique hotel within the old city walls. Its rooftop terrace restaurant is the perfect inner-city perch to "wow" your way through an evening of fine dining with a stunning historical backdrop. The hotel perfectly blends new and trendy designs and a timeless, historic setting. Needless to say, we love that.
Only eight guest rooms are available at this property. It books up quickly and has an intimate atmosphere, so if it catches your eye, make a reservation early. All the guest room options are tastefully decorated with cutting-edge but comfortable decor, but bag the junior suite with a balcony if possible. The outdoor space and private view are worth every penny. And if you want a boutique option within the Old Town, Boutique Hotel Stari Grad is easily one of the top hotels located in the city center.
8. The Pucic Palace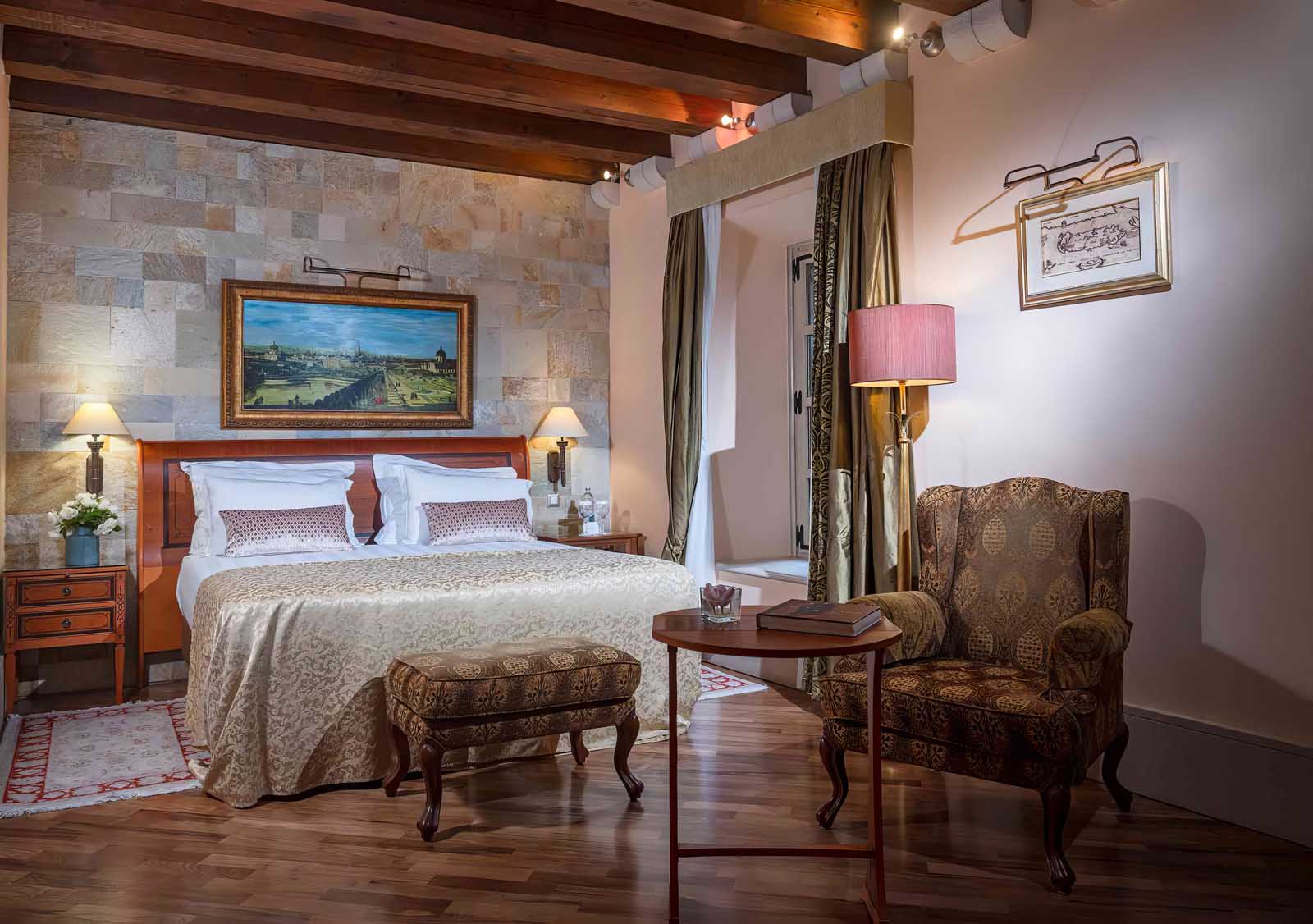 Another oldie but goldie, The Pucic Palace is a stunning baroque building off the Stradun Promenade in the absolute center of the Old Town. You can get any closer to the city center than this, and the history of the 18th-century building is a serious draw for anyone interested in old-world Dubrovnik. On foot, you are less than 60 seconds away from Dubrovnik Cathedral – an unheard luxury as far as most hotels in Dubrovnik go. The location and historical status of the hotel are nothing short of enchanting. We felt compelled to add it to this guide.
Room choices range from annex rooms with exposed beams to suites with private balconies and whirlpool tubs. For those chasing a more self-catered experience, there are also apartment choices with kitchens. The Pucic Palace has onsite restaurants that – quite literally – spill out onto the street too. You can indulge in al fresco dining in the square or head to the terrace restaurant for a vantage point. While there are no swimming pools, the fact Banje Beach is just a six-minute walk away is a lovely sweetener. The Pucic Palace guests even get complimentary beach towels and sun loungers.
9. Hotel More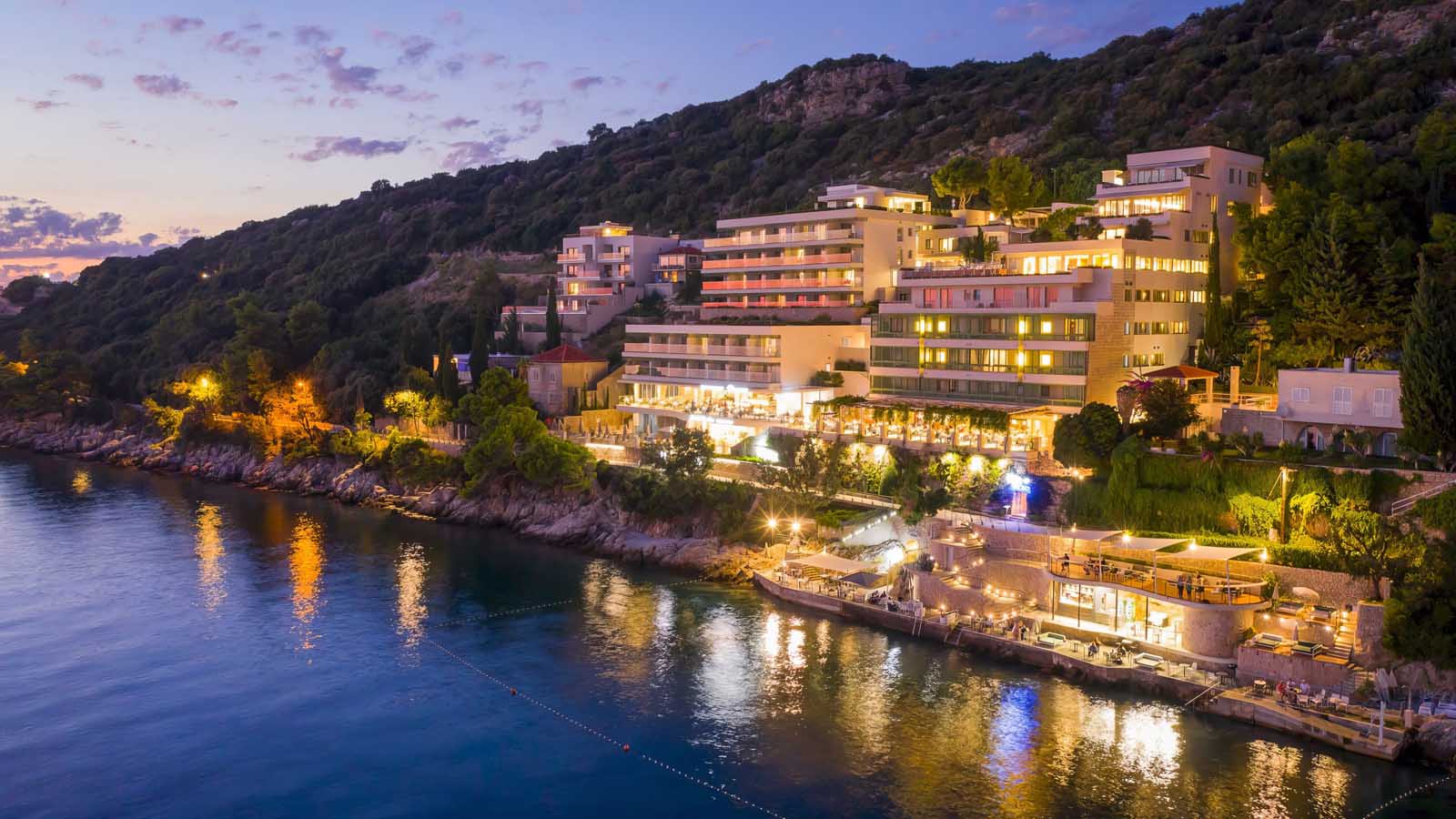 Ready for some real excitement? Hotel More has a cave bar. You read that right – a cave with an actual bar inside. The cave bar is Dubrovnik's quirkiest drinking hole and should definitely feature on a bar crawl through the city. We've got to admit that the cave bar initially caught our eye just for the novelty factor. However, Hotel More is just as beautiful in its own right. Built into the slopes that flank the Adriatic Sea, Hotel More overlooks the ocean and is just 2.2 miles from the Old Town. With quiet elegance, it embodies that calming luxury that balances the busyness of the Dubrovnik city center.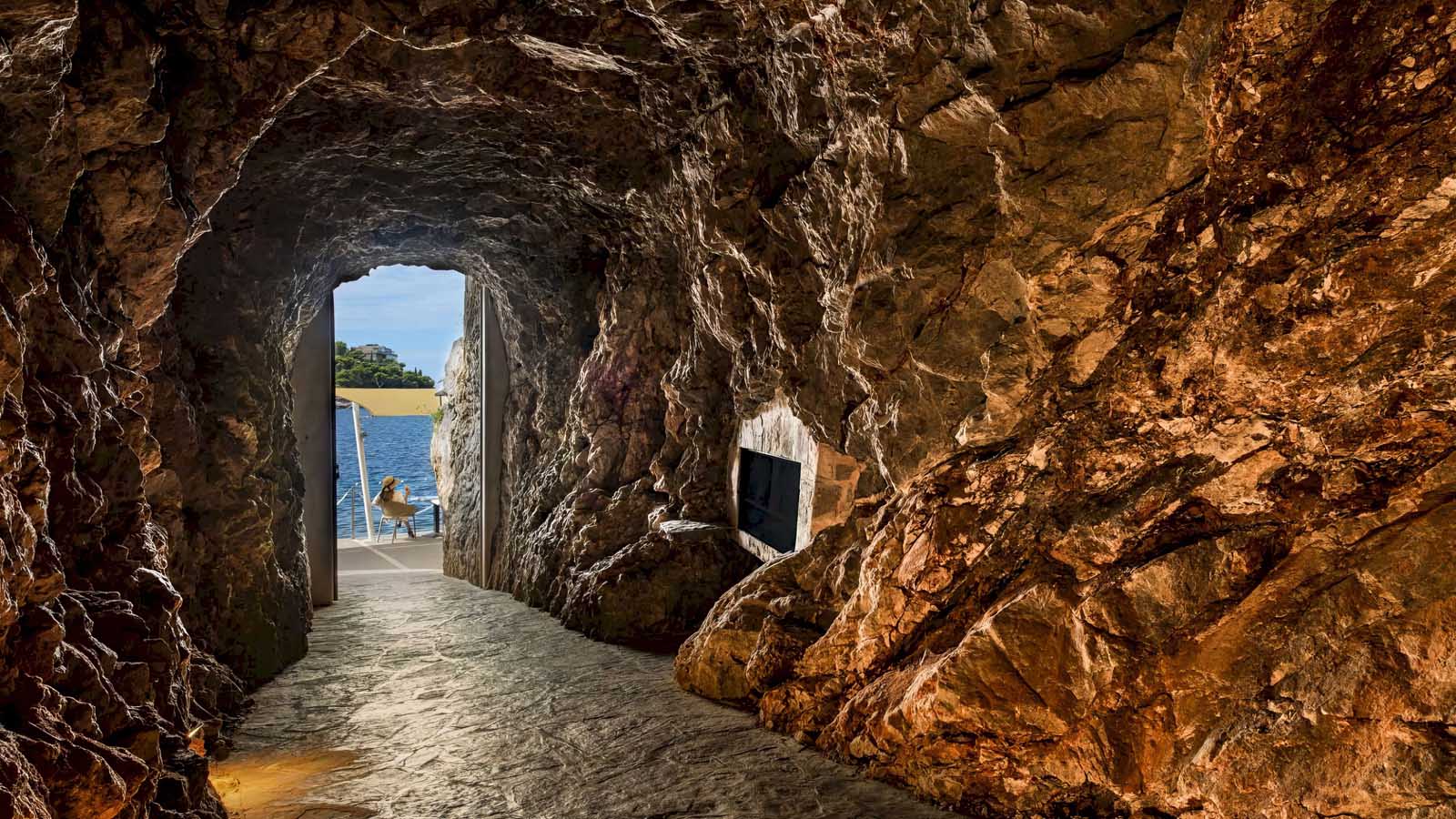 The rooms at Hotel More range from classic singles to deluxe suites with sea-view terraces. Family rooms are also available, which is well worth noting if you are a family traveling to Dubrovnik. Some of the more luxe rooms have whirlpool tubs, too, if you fancy splurging on extra luxuries. Hotel More already has an outdoor pool, gym, and fully-equipped spa, though – so you won't miss out if not. And since it's located in Lapad, there are plenty of nearby beaches for a relaxing dip.
10. Boutique Hotel Kazbek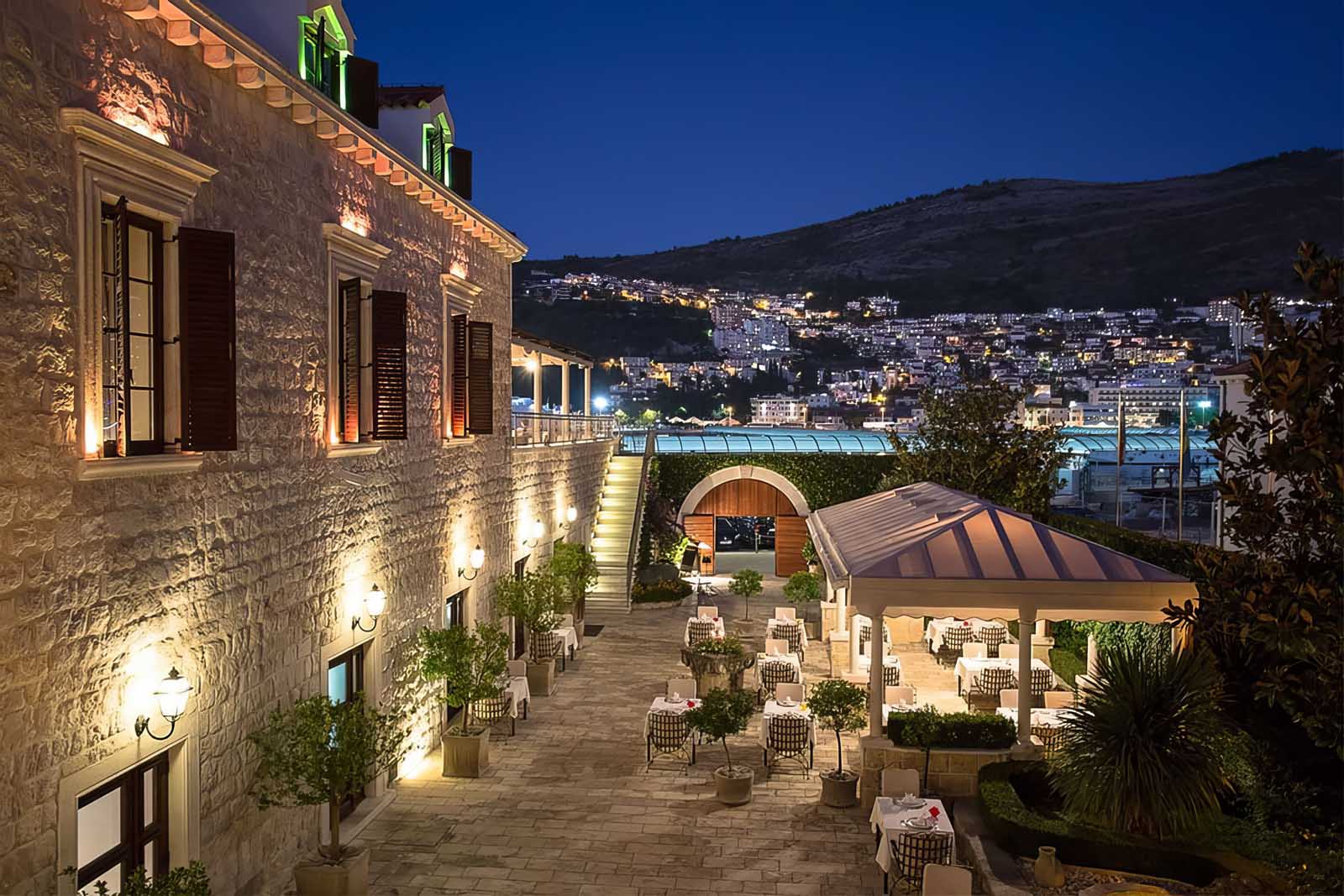 Boutique Hotel Kazbek was once the home of a local noble family. The property dates back to the 16th century, and its this history that holds most of its allure. While Boutique Hotel Kazbek has been renovated, you can still see the influence of nobility in its architectural design. And there are indulgent nods throughout the property – like king beds in every guest room. It is an impressive building to admire. It certainly has an atmosphere for guests wanting a luxury hotel that'll leave an impression.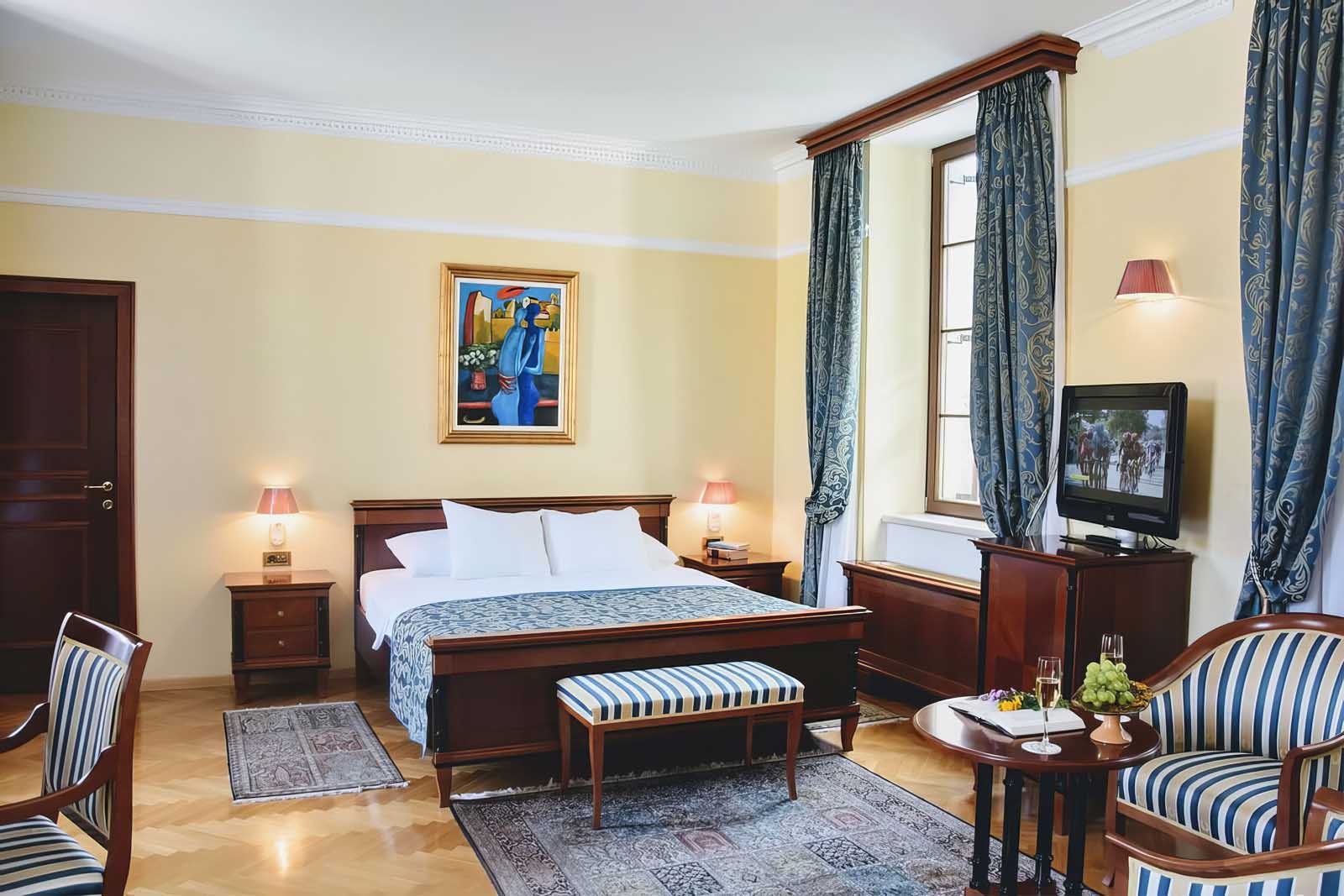 It isn't just noble looks either; Boutique Hotel Kazbek has a sauna and outdoor pool for guest enjoyment. It is also located in Gruz Bay – the only hotel in this guide to be here. If you plan boat trips to the surrounding islands, staying in Gruz Bay is brilliant. You have access to the Old Town in just a six-minute drive and doorstep access to the port. Gruz Bay is convenient and pretty glitzy with all the big white yachts and sailboats.
11. Dubrovnik President Valamar Collection Hotel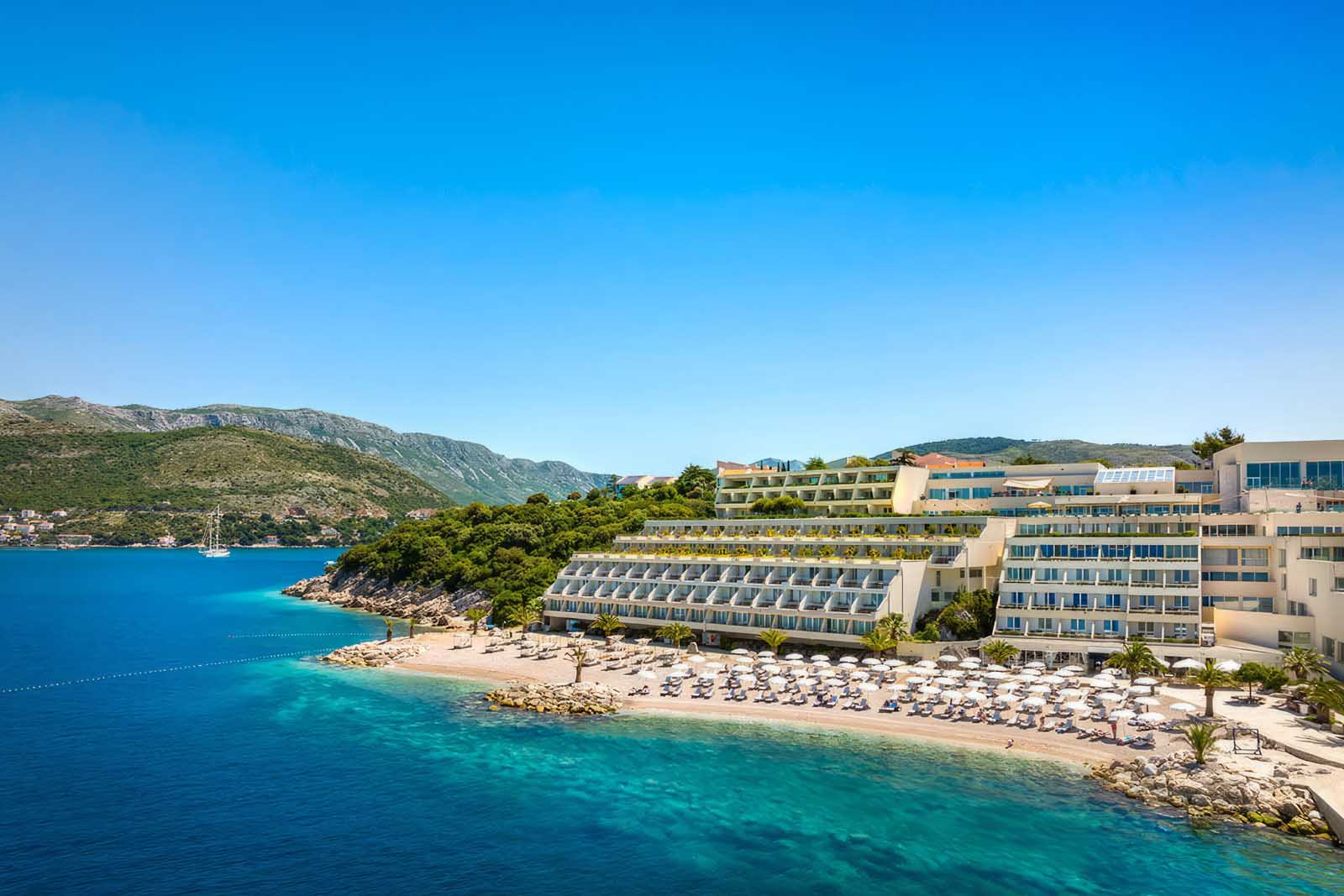 Dubrovnik President Valamar Collection Hotel is the megalodon of luxury hotels in Dubrovnik. The five-star property explodes in rows and rows of private terraces. It is the perfect choice for an apartment-style experience. Dubrovnik President Valamar Collection Hotel is located in the quiet coastal neighborhood of Babin Kuk with a private beach. It is the sort of high-end hotel that feels hidden away from the chaos of other tourists. A self-contained little hospitality enigma with a pretty pebble beach. We like its secluded location in Babin Kuk.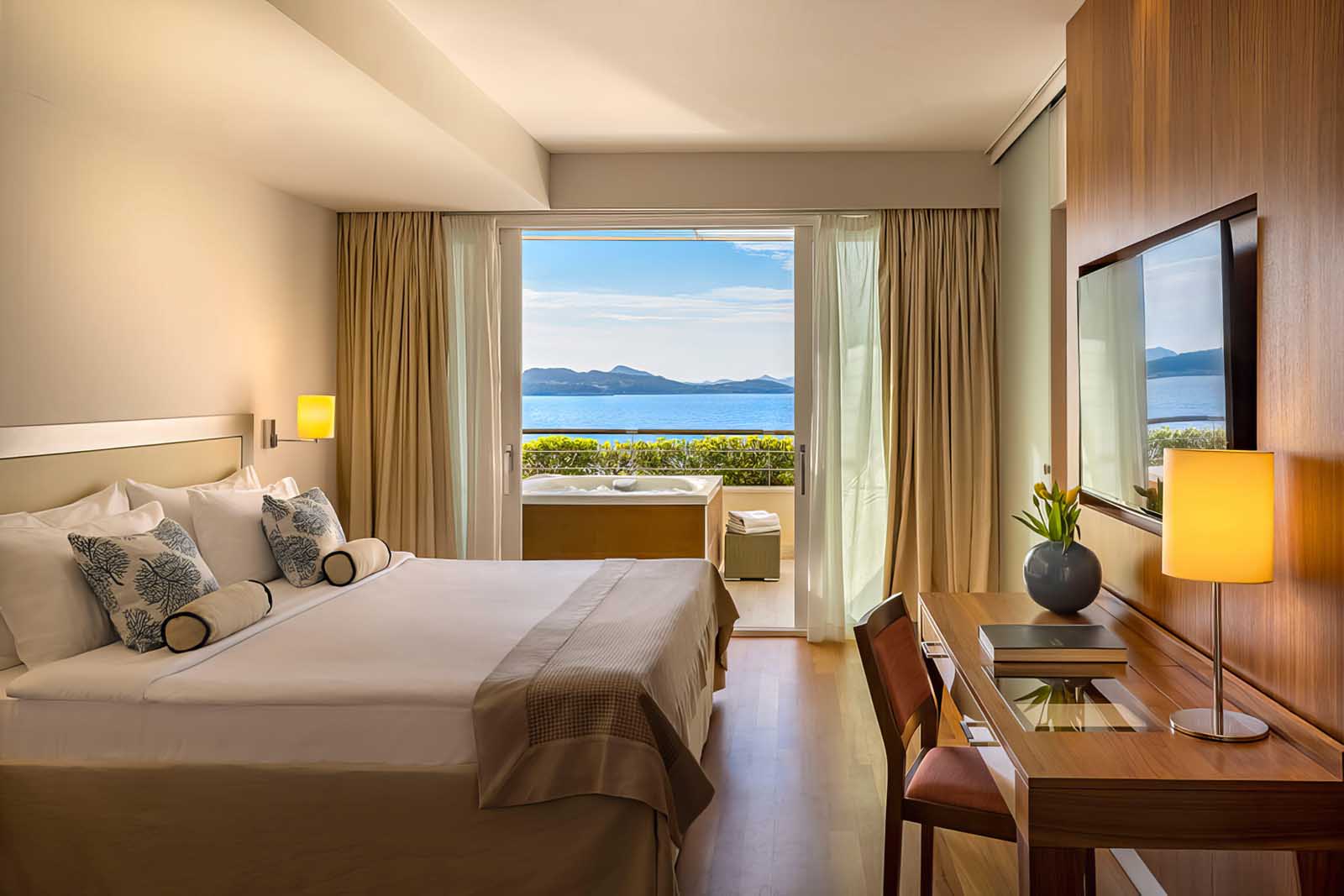 Dubrovnik President Valamar Collection Hotel's standard rooms include breakfast and a terrace or balcony with privacy screens. The hotel also offers superior suites and other more extravagant room choices. And in terms of facilities, there's a wellness center and a gym – two ticks for the fitness-conscious guests.
12. Grand Villa Argentina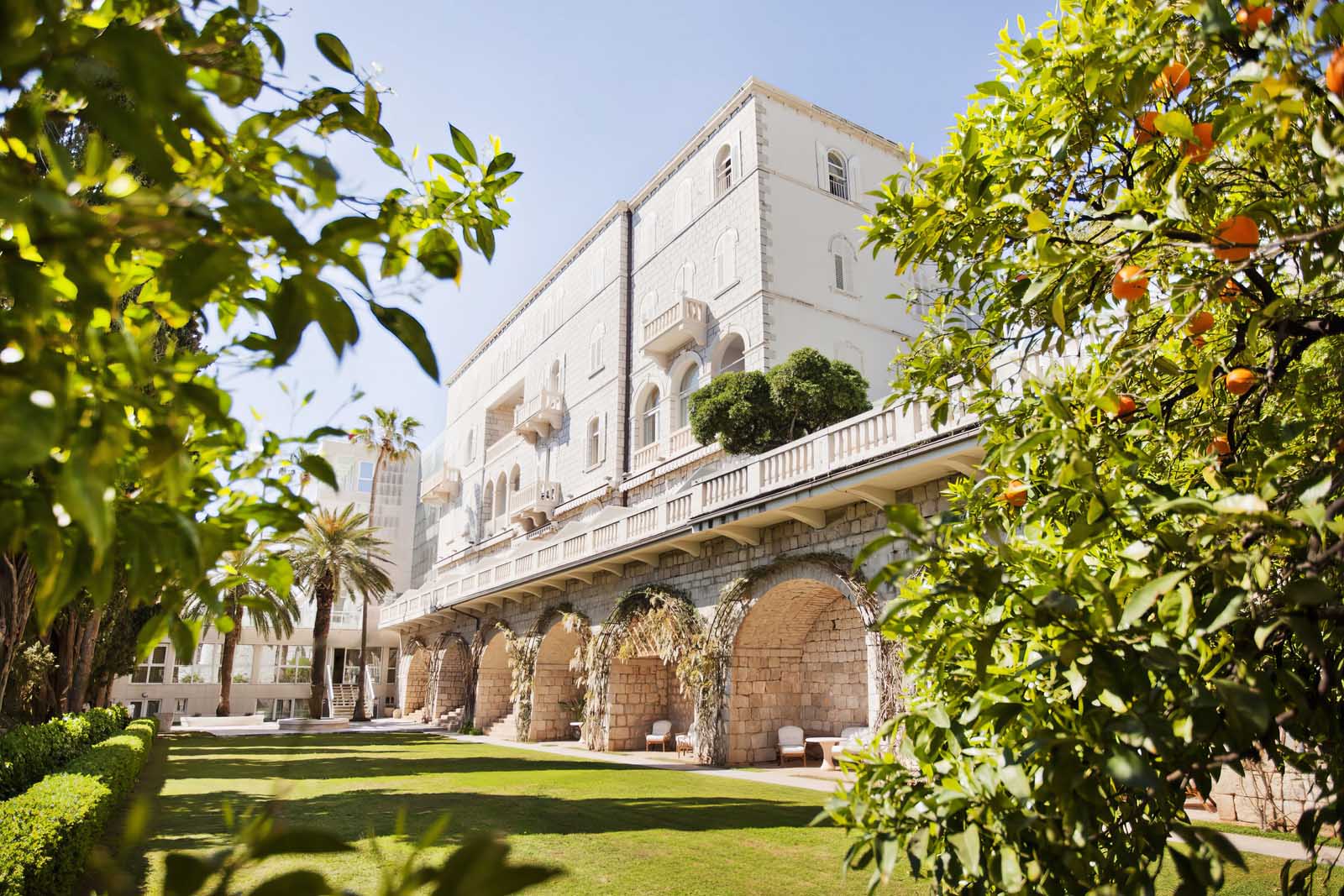 A five-star hotel sitting on a cliff is the perfect recipe for a luxury hotel in Dubrovnik. Grand Villa Argentina is a beautiful property built to overlook the sea. Grand Villa Argentina's best feature is the outdoor saltwater pool, with sweeping ocean views and Lokrum Island. With private beach access, you might also have two outdoor pools, seeing as you can just hop straight into the sea. Aside from beautiful swimming opportunities, there is a spa with a Finnish sauna, hot tubs, and a gym. Grand Villa Argentina squeezed onto our list for its recreational facilities and poolside views.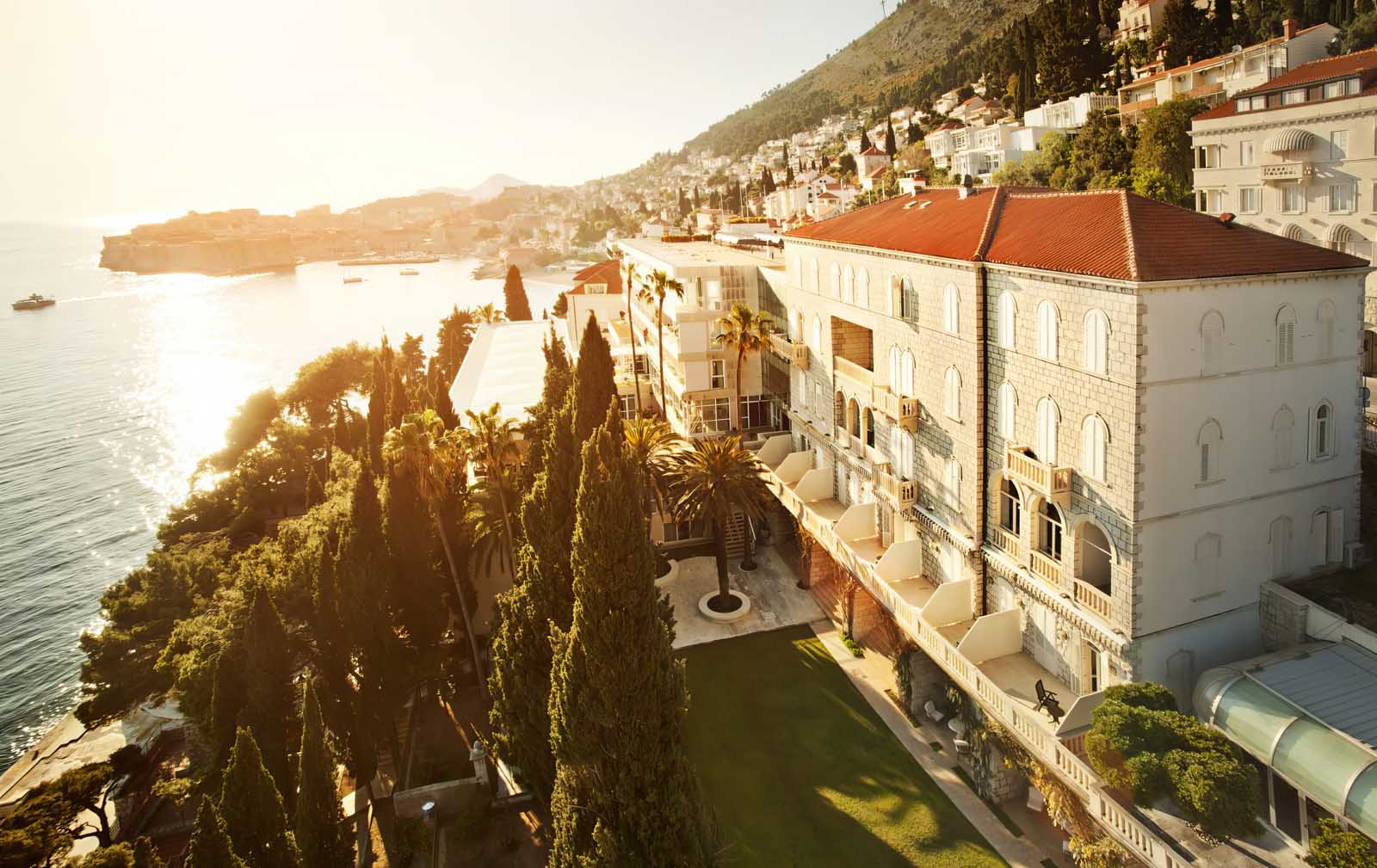 Its rooms have contemporary décor – comfortable and spacious. The majority of rooms have sea views, and some have balconies. Set in the trendy neighborhood of Ploce, you won't spend much time in your room. You are just a 20-minute walk from the Old Town and Dubrovnik's attractions. And Banje Beach is almost literally on your doorstep.
13. Bota Palace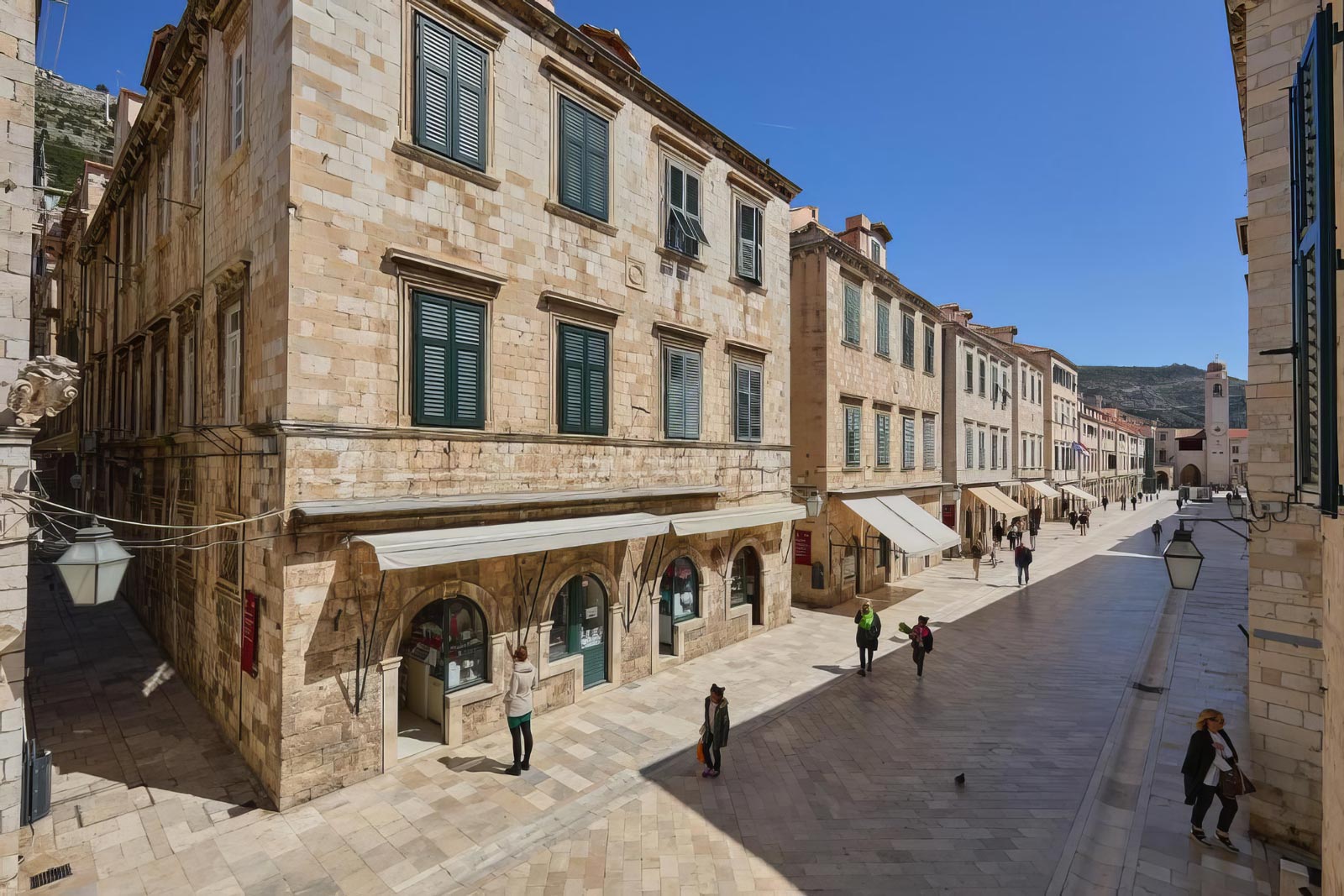 Bota Palace seems robbed of its fifth star. As a boutique hotel, it has oodles of charisma. It has a brilliant sense of style and a wicked location, from the exposed brick walls to the all-white annex rooms. You can gaze out at Stradun (the main street in the famed Old Town) from almost every window. Chic and sleek are the most well-deserved adjectives for Bota Palace's interior. Still, the location is also a perfect ode to Dubronik's history. And to fuel all that sightseeing, Bota Palace offers bed and breakfast services, meaning complimentary breakfast each morning.
In terms of guest rooms, you can opt for standard king rooms or apartment-style rooms with kitchens for a self-catered experience. Each room comes with drink-making facilities. The decor is fresh and designed with the modern trend seeker in mind. The two major brownie points are the effortless luxury of this property and its valuable location.
14. Villa Orsula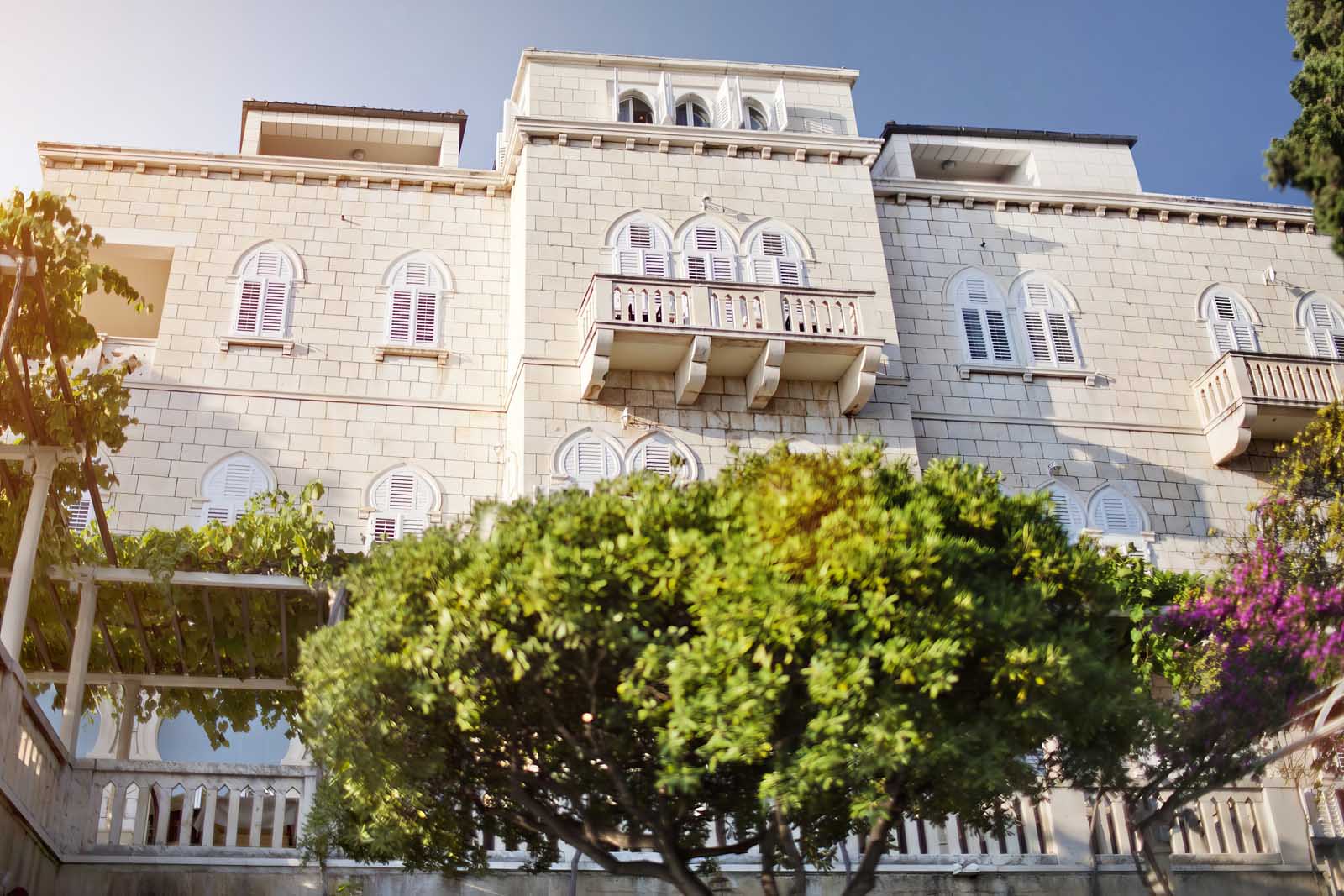 Villa Orsula is beautiful. People tend to throw around the term 'old money aesthetic', but in Villa Orsula's case, it is truly an apt description. The hotel is all built from chunky old stone, cutting a traditionally elegant picture against the backdrop of the Adriatic Sea. Villa Orsula has extensive sun gardens overlooked by stone terraces and archways. And at night, low lighting illuminates the plant-covered stone property for the ultimate romantic appeal. Villa Orsula's good looks won us over in a heartbeat.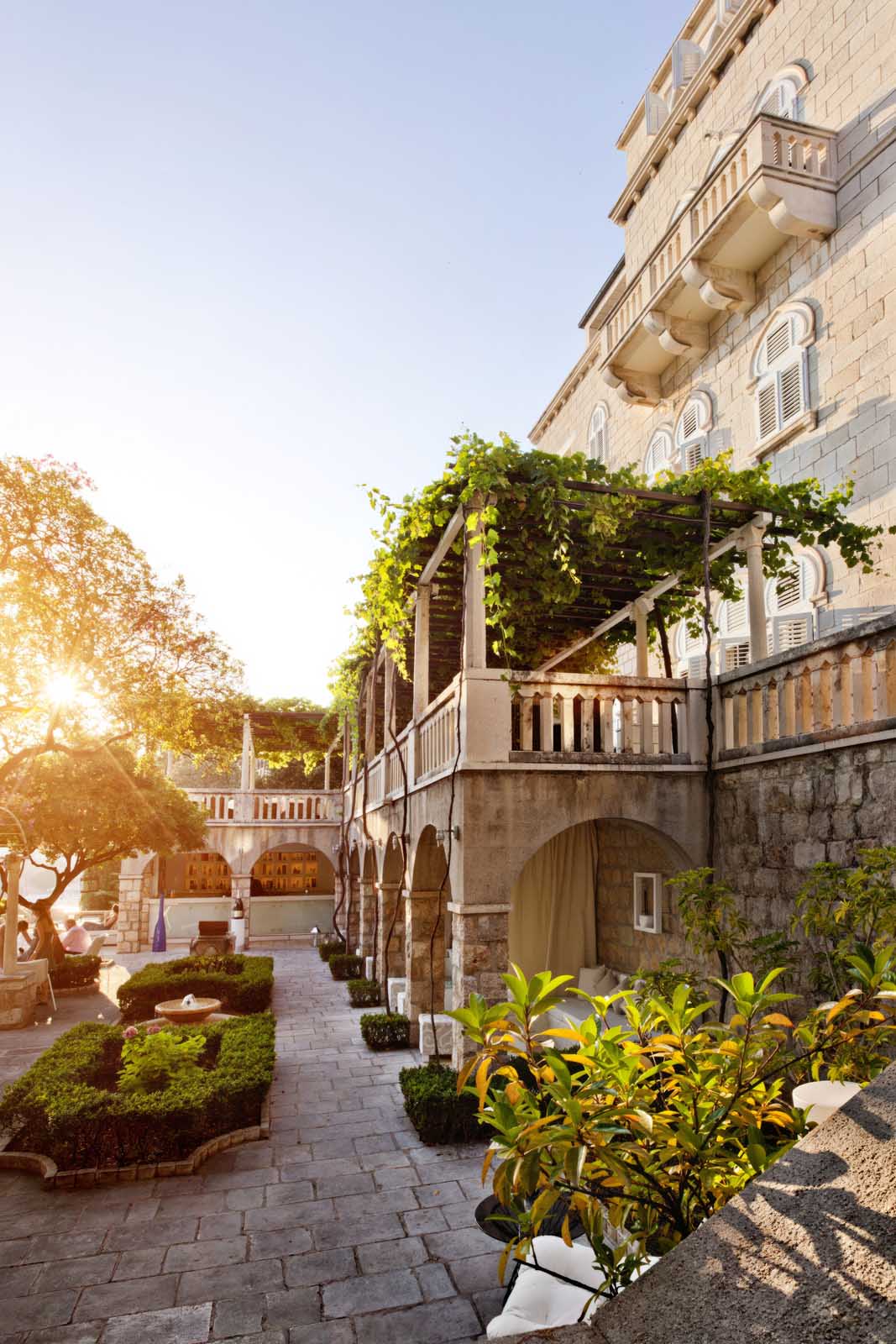 Even the standard rooms at Villa Orsula feature peaceful gardens or sublime sea views. It greatly emphasizes visual luxuries, which is a nice touch. The hotel also has a private beach. While no pool is onsite, guests can access an indoor and outdoor pool at the adjoining luxury hotels. Like most leading hotels in Dubrovnik, it has a high-quality spa, too, for a bit of extra day-to-day luxury. Located in trendy Ploce, it has easy access to the Old Town and beaches. There's a complimentary airport shuttle too, which is always welcome after a tiring flight.
FAQs: Luxury Hotels in Dubrovnik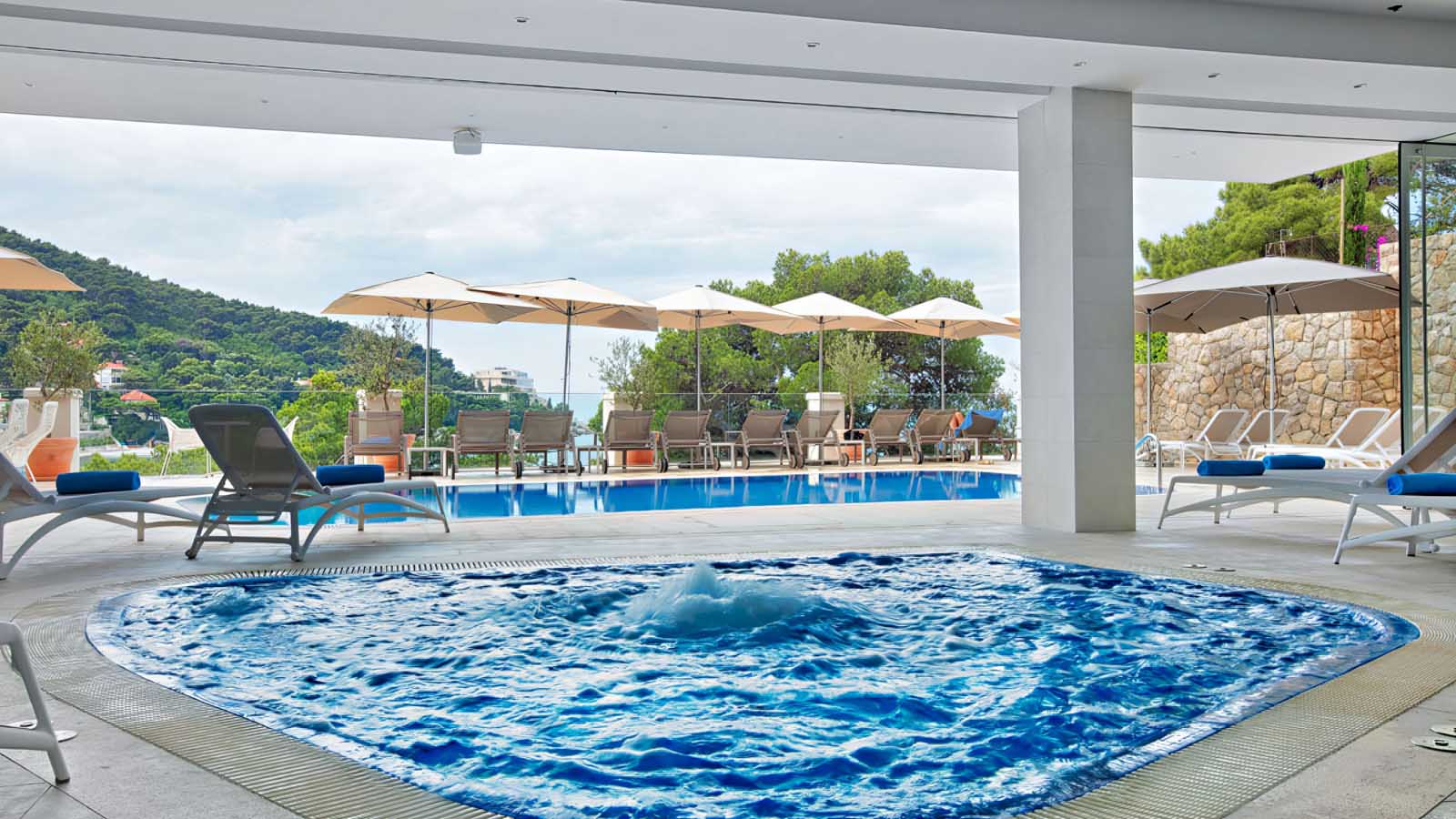 The most luxurious place in Croatia is Dubrovnik. Dubrovnik has some of the best five-star hotels in the whole country and an exclusive collection of beaches. The seafood is sublime, and the historic remains of the old city provide a beautiful backdrop for al fresco wining and dining. It is also the ideal place to go island hopping. Dubrovnik has many high-end yachts and sailing boats for a luxury island hopping experience.
Which area of Dubrovnik is best to stay in?
The Old Town is the best area of Dubrovnik to stay in for an old-world atmosphere and luxury hospitality. It is where you'll find the best high-end restaurants and the most historical views of the old city walls.
The Old Town is the classic city center of Dubrovnik. We are talking about cobbles, old town walls, and cultural sightseeing. The Old Town is where most tours depart from and is ideal for first-time visitors who want that Game of Thrones-style aesthetic in Dubrovnik.
These two regions are sandwiched on either side of the Old Town. In fact, these neighborhoods are called after the original gate names when Dubrovnik was a functional walled city. Pile or Ploce is a solid compromise on the big crowds and overpriced (dare we say it) restaurants in the Old Town. You get easy access to the Old Town and all Dubrovnik's things to do, but a more relaxed experience.
Gruz is the old harbor. It is a reasonably accessible neighborhood to appreciate Dubrovnik's main attractions. However, its highlight is the number of day trips to beautiful islands. If you plan to island-hop Croatia, Gruz is an excellent base.
Lapad and Babin Kuk are laidback beach areas outside the slightly hectic Old Town. One major issue with staying inside the Old Town walls is that you don't get beach access. Many of the luxury hotels in these neighborhoods have a private beach or at least almost doorstep access to the ocean.
Is it expensive to stay in Dubrovnik?
Staying in Dubrovnik hotels is expensive. The city has a high-end reputation and caters to a wealthy crowd with its luxury hotels.
Who owns Royal Resort Dubrovnik?
Dr Ciril Zovko owns the Royal Resort Dubrovnik. Dr. Ciril owns the entire Royal Hotels & Resort chain.
To Conclude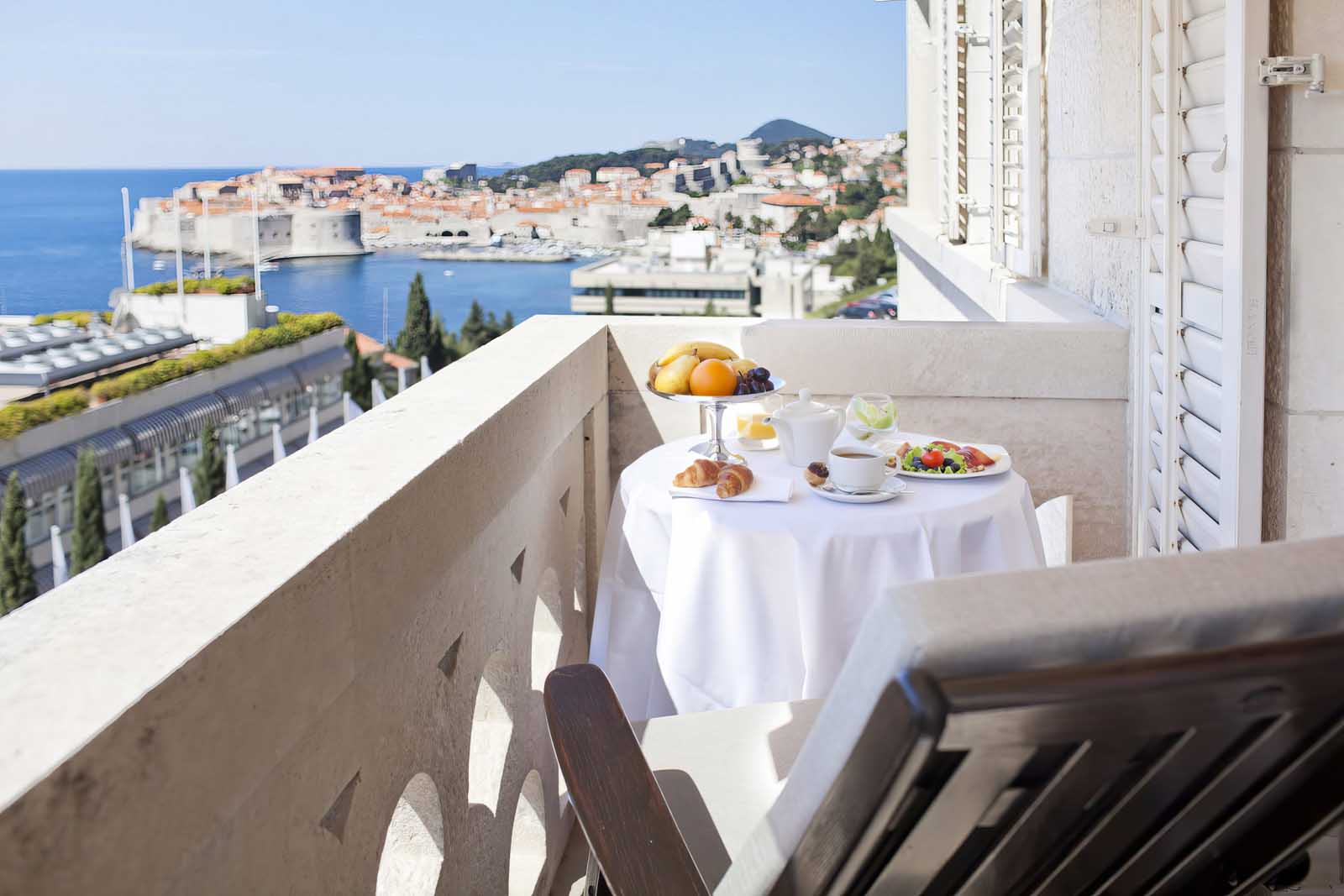 Luxury hotels in Dubrovnik are a heavenly investment in happiness. And as for the city itself, it is easily one of the most beautiful cities in Europe. Its city walls and sublime sea views seem practically made for luxury hotels. You'll have an incredible time picking a luxury hotel in Dubrovnik.
To venture further than Dubrovnik's Lapad Peninsular, consider these best things to do in Croatia. Croatia has beautiful places, islands, cities, and cultural attractions. Don't limit yourself to a single city if you have more than a week.
Plan Your Nest Trip to Croatia With these Resources: