As we reported last week, the iPhone 15 Pro and iPhone 15 Pro Max feature a more repairable internal design, with a redesigned frame that allows for the back glass panel to be easily removed from the devices. This change was first made to the iPhone 14 and iPhone 14 Plus last year, and now it extends to the Pro models this year.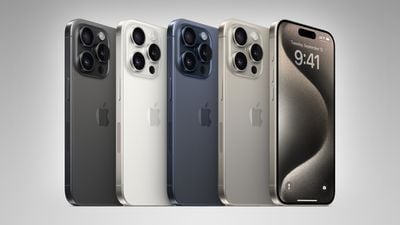 At the time, we said that the removable back glass would likely result in significantly lower repair fees for iPhone 15 Pro models with cracked back glass for customers without AppleCare+ coverage, and this is now confirmed. As noted by Ian Zelbo, Apple has updated its U.S. website with iPhone 15 repair fees, revealing that it will charge $169 or $199 to repair the iPhone 15 Pro or iPhone 15 Pro Max with back glass damage. By comparison, these fees are set at $499 or $549 for the iPhone 14 Pro or iPhone 14 Pro Max.
The lower fees were also reported by 9to5Mac. For customers with AppleCare+ coverage for their iPhone, back glass damage can be repaired for $29.
In the U.S., Apple's battery replacement fee is set at $99 for all four iPhone 15 models, which is unchanged from the iPhone 14 series. For additional iPhone 15 repair fees, such as for the rear camera or other damage, visit Apple's website.
Popular Stories