Apple Savings account partner Goldman Sachs has changed its system to prevent Apple Card customers from running into extended delays when attempting to withdraw money, reports The Information.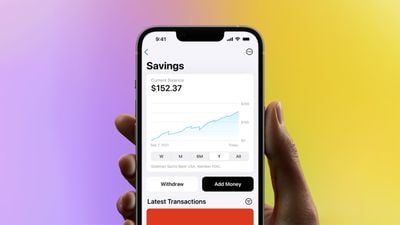 When the Apple Savings account launched earlier this year, there were complaints from customers who had long wait times when trying to withdraw money from their accounts. Some people had to wait weeks for money transfers, and in some cases, money disappeared between banks. Goldman Sachs at the time said that the transfers were delayed because of security flags that were meant to help protect user accounts.
Goldman Sachs has since adjusted its system to make it less likely to flag legitimate customer withdrawal requests as problematic. According to The Information, when a customer with a large amount of money attempts to move a small portion of their cash to an outside account, Goldman Sachs will be less likely to flag the transaction.
There is also now a cap on the number of days that a withdrawal should take, and Goldman Sachs is prioritizing communication with customers who have flagged transactions to ensure the communication issues that occurred earlier this year do not repeat.
Goldman Sachs in July provided one-time $100 credits to customers who had experienced poor customer service as a gesture of good will.
The Apple Savings account has been offered since April, and it is available solely to ‌Apple Card‌ holders. The account has a 4.15 percent interest rate on Daily Cash and other deposits.
Popular Stories