Parallels Desktop 19 for Mac has been released, bringing some notable new features and performance enhancements to the virtualization software, including password-less Sign-in with Touch ID Integration and full support for Apple's forthcoming macOS Sonoma operating system.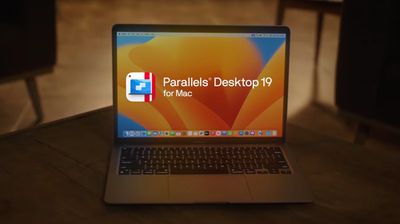 Touch ID on Macs lets users authenticate logins and Apple Pay transactions with their fingerprint, and beginning with Parallels Desktop 19, users with a secure Windows login and password can now use Touch ID to sign in to Windows virtual machines, simplifying the login process.
Parallels Desktop 19 also brings optimized compatibility with macOS Sonoma, including re-engineered Shared Printing via Internet Printing protocol (IPP) that supports printing from Windows apps, with minimal setup required.
In addition, DP 19 promises a richer experience using VMs on Apple silicon Macs, thanks to dynamic resolution adjustments and familiar multitouch gestures with Trackpad support. Meanwhile, Pro Edition users can remotely access a macOS Sonoma 14 VM via port forwarding, which is useful for VMs hosted on Amazon EC2 Mac cloud instances.
The Parallels Desktop software has also been given a design overhaul, with a new app icon and a refreshed UI that aims to make navigation simpler, along with native dialogs for easier interaction with the app.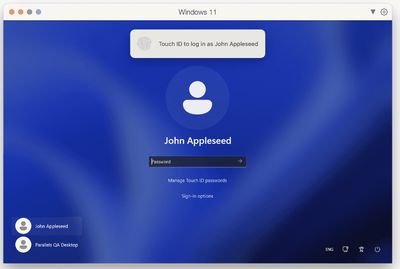 There are several other improvements highlighted in the release notes for Parallels Desktop 19, including:
Improved OpenGL support, up to version 4.1, for running more CAD software on Mac, including VariCAD, Deswik.CAD, Vectorworks Vision 2023, and more.
Improved performance for AcrGIS Pro, a map designing application.
Compatible to run CentOS 9 Stream on Mac computers with Apple silicon, along with an updated set of ready-to-go Linux distributions, including Ubuntu 22.04.2, Fedora 38, Debian 12, and more.
New option to create Arm-based Linux VM on Mac computers with Apple silicon using Rosetta to run x86-64 binaries, including containers.
Enhanced support for the HashiCorp's Packer and Vagrant with macOS VM on Apple silicon.
New option to create, group, and manage Parallels VMs and their containers from the Visual Studio Code extension.
Support for enrolling Windows in Windows management solutions, such as Microsoft Intune and others, when deploying it using Parallels My Account Configuration Profile or as a shared file.
Parallels Desktop 19 for Mac Standard, Pro, and Business editions can be purchased or upgraded to at parallels.com/desktop or from authorized resellers. For more information, including the option to download a free trial, see the Parallels website.
Popular Stories