Apple's iPhone 15 and ‌iPhone 15‌ Plus models could still have a smaller sensor than the iPhone 15 Pro and ‌iPhone 15 Pro‌ Max, despite their upgrade to 48-megapixels, according to a new rumor posted on Weibo.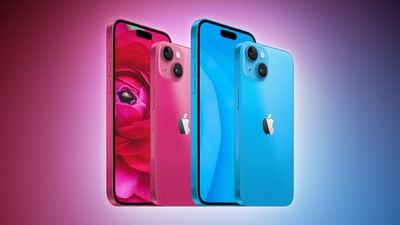 The claim comes from "Digital Chat Station," a Weibo user responsible for a range of details about the camera technology of upcoming iPhone models. Firstly, they claim that the ‌iPhone 15 Pro‌ and ‌iPhone 15 Pro‌ Max will retain the same 1/1.3-inch 48-megapixel sensor as the iPhone 14 Pro and ‌iPhone 14 Pro‌ Max.
Numerous reports from sources including the analysts Jeff Pu and Ming-Chi Kuo say that the two standard ‌iPhone 15‌ models are set to be upgraded to 48-megapixels just like the ‌iPhone 14 Pro‌ and ‌iPhone 14 Pro‌ Max. According to Digital Chat Station, while the non-Pro models will receive the upgrade to 48-megapixels, they will continue to have a smaller stacked CMOS image sensor (CIS) than the Pro models at 1/1.5-inches.
The iPhone 14 and ‌iPhone 14‌ Plus feature a 12-megapixel sensor that is 1/1.9-inches in size. This means that the standard ‌iPhone 15‌ models could gain a 27% larger sensor – a substantial increase, but still not equal to the ‌iPhone 14 Pro‌ and ‌iPhone 15 Pro‌ models. In May, Digital Chat Station reported that the next ‌iPhone‌ sensor size increase for the Pro models is set to occur in 2024, increasing from 1/1.28-inches to 1/1.14-inches.
A larger image sensor offers improved image quality by capturing more light, leading to greater detail and less noise, especially in low-light conditions. It also provides a wider dynamic range and better color accuracy, resulting in more professional and visually appealing photos.
Popular Stories