Back in May, Google announced plans to introduce a new safety feature that would alert Android users about nearby unknown Bluetooth trackers, including AirTags, preventing people from being stalked with tracking accessories.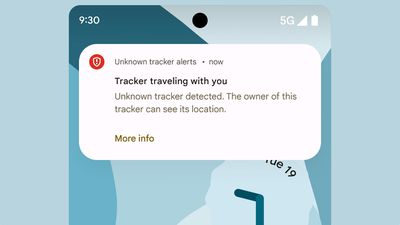 The tracking alert functionality is rolling out starting today. Android smartphones will provide automatic alerts if an unknown Bluetooth tracker is separated from its owner and traveling with the smartphone user. The notification can be tapped to view a map of where the tracker was last seen, and using a "Play sound" function will cause the tracker to make noise.
If an unknown tracker is detected nearby, Google will provide device information such as serial number or the last four digits of the phone number from the registered owner, along with details on how to physically disable the tracker. There is also a manual scan feature in the Safety & Emergency section of the Settings app on compatible Android devices.
At the current time, unknown tracker alerts are compatible only with ‌AirTags‌ from Apple, but Google is working on adding support for other trackers such as those from Tile.
Google's new feature addresses a major issue with ‌AirTags‌. When ‌AirTags‌ launched, Apple introduced an anti-stalking function to prevent them from being used for people tracking, and that feature ended up having to be refined several times. iPhones have long been able to notify users about an unknown AirTag that is nearby and could be a danger with its "AirTag Found Moving With You" alerts but Android users were nearly defenseless unless they knew to download the Android-based "Tracker Detect" app that Apple created.
An inability for Android users to easily detect an AirTag being used for stalking or other nefarious purposes has been a major AirTag criticism for more than two years now, but now compatible Android devices will spot nearby ‌AirTags‌ without the need for Android users to seek out an app.
Earlier this year, Google and Apple teamed up to submit a new industry specification that would cut down on the misuse of Bluetooth item trackers for stalking purposes. The joint venture will see Android and iOS devices both able to detect nearby Bluetooth devices and send unwanted tracking alerts for third-party item trackers.
As part of this specification, Google plans to add native support for tracking third-party Bluetooth tracking accessories from companies like Tile and Chipolo on Android devices. Google says that it is ready to roll out this new Find My Device network on Android, but it has delayed its plans as it works with Apple to finalize the cross-platform unwanted tracker alert specification that is in development.
Google will hold its ‌Find My‌ Device network until Apple has implemented the same protections for iOS devices.
Right now, Apple's ‌Find My‌ app is able to track third-party Bluetooth accessories, but only those that have implemented specific ‌Find My‌ support using Apple's protocol. Bluetooth trackers from companies like Tile cannot be tracked natively by an iPhone without the Tile app, which is the problem that Apple and Google are aiming to address.
Samsung, Tile, Chipolo, Eufy, and Pebblebee, companies that make Bluetooth-based tracking devices, have all expressed support for the joint specification and plan to support it. Apple and Google said that a production implementation of the specification for unwanted tracking alerts will be introduced by the end of 2023 and added to future versions of iOS and Android.