Meta today started rolling out a highly-requested "Following" tab in its Threads app, allowing users to view posts from accounts they follow in reverse-chronological order. The app continues to show algorithmically recommended posts under the "For you" tab.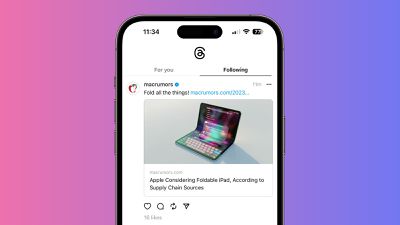 The addition of a "Following" tab brings Threads more in line with its rival Twitter, and it will make the app more useful for keeping track of the latest posts in real time. The new tab is still in the process of rolling out as a server-side change, so it is not yet visible to all users, but updating the app and tapping the home button in the bottom menu might help.
Meta launched Threads earlier this month as an alternative to Twitter, which has faced several controversial changes since being acquired by Tesla CEO Elon Musk last year. Earlier this week, Twitter changed its name to "X" and said it would become a platform for "everything," including audio, video, messaging, payments, and more.
Threads is integrated with Instagram, resulting in the platform already becoming the largest Twitter alternative, with over 100 million users signed up.
Popular Stories