Recent rumors have suggested that Goldman Sachs is aiming to end its financial partnership with Apple, and The Information today shared a new report on what went wrong and why the relationship between the two companies fell apart.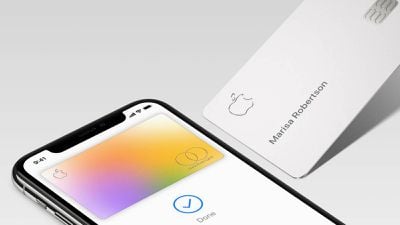 Goldman Sachs is Apple's partner on the Apple Card, the Apple Savings account that is open to ‌Apple Card‌ users, and Apple Pay Later, Apple's buy now, pay later service that is being beta tested. Apple and Goldman Sachs have worked together since the ‌Apple Card‌ launched in 2019, but the venture is not making Goldman Sachs enough money, and Goldman Sachs' customer service issues with the Apple Savings account are impacting Apple's reputation.
Former employees at both companies who worked on the Apple Card said executives weren't prepared for how difficult it would be to combine Apple's West Coast tech approach with Goldman's New York-style banking culture. While Apple was more focused on the sleek technology and product pizazz that drew in customers and kept them happy, Goldman prioritized regulatory compliance and profitability.
Apple had a lot of demands that were atypical for credit cards and led to development problems ahead of when the ‌Apple Card‌ launched, including billing statements that lined up with calendar month, instant cash back rewards (did not launch), and the design of the physical card and customer agreements.
In one anecdote relayed by The Information, Goldman Sachs and Apple ran into a glaring issue. Apple CEO Tim Cook was testing the service and was not able to get approved for an ‌Apple Card‌. The Goldman Sachs underwriting process rejected his application because he is a high-profile figure that is regularly impersonated, and flags on his credit bureau accounts caused issues.
Goldman Sachs was able to make a one-off exception, but internally, there were other issues that Goldman Sachs was dealing with that eventually led to an investigation by the U.S. Consumer Financial Protection Bureau (CFPB). Goldman Sachs ended up with more disputed transactions than anticipated, and customers were receiving conflicting information or long wait times for dispute resolutions.
Shorty after the ‌Apple Card‌ launched, Goldman Sachs was also investigated for how credit limit increases were provided following reports of gender discrimination. Goldman Sachs was ultimately cleared of gender bias, but the situation created tension with Apple. The company also had issues with inaccurate statements, delayed payment postings, and problems with credit reports.
Goldman Sachs is now aiming to get away from consumer banking. It wanted to hand the Apple partnership over to American Express, but ‌Apple Card‌ has to run on the Mastercard network until at least 2026 according to a deal Apple and Goldman Sachs established, and American Express has its own payment network. Apple also has to approve any new partner, and sources that spoke to The Information have suggested that few companies would be willing to agree to Apple's terms.
Because Goldman Sachs was new to consumer banking and was eager to establish a deal with Apple, it is not collecting fees that it would typically get in a partnership for a credit card. Goldman Sachs does not get a portion of the fee that merchants pay to Apple to accept the ‌Apple Card‌. Retailers pay a percentage of each transaction when taking a credit or debit card payment, and Goldman Sachs gets no funding from this.
Goldman Sachs is unable to collect annual fees, late fees, or fees for foreign transactions because the ‌Apple Card‌ does not charge these fees. Apple does pay for the Daily Cash that users earn, and Goldman Sachs is able to earn money from loans issued to cardholders who split Apple product purchases into installments, but it is not making enough for the deal to be appealing to a new partner.
Apple could decide to partner with a lesser-known bank to handle the regulatory functions while Apple takes over underwriting, fraud prevention, and customer service, but it is not yet clear if that will happen. The Information does not believe that Apple and Goldman Sachs will be able to maintain their relationship, and the report suggests that it could take around 18 months to dissolve the partnership.
More details about the relationship between Apple and Goldman Sachs can be found in The Information's full report.