Apple today released the fourth beta of macOS 14 Sonoma, but it might be wise to hold off on installing the new software right now due to issues that some Mac users have reported.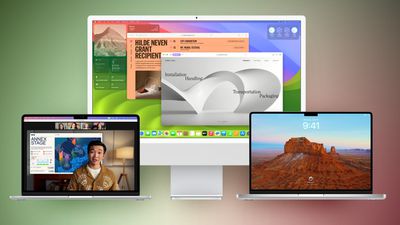 A handful of people have downloaded and installed the beta only to be greeted with an entirely black screen and a non-functional device. The mouse pointer is visible, but nothing shows up on the display. Affected Macs include an M2 14-inch MacBook Pro, an M1 MacBook Air, and an M1 Max MacBook Pro, but not all users are having installation troubles.
There are multiple reports from people who have had no issues installing the beta, so it is not clear where the problem lies. On Reddit, one user was able to fix the issue by going into recovery mode and reinstalling the beta, and another had luck with multiple reboots, but that does not seem to solve the problem for everyone.
On the MacRumors forums, there are also reports of issues with widgets not showing up properly and the Music app not opening, which were fixed by restarting. Given the number of problems with the software, those who are using macOS Sonoma on a main machine might want to wait to upgrade to the fourth beta.
Popular Stories