Popular flight tracking app Flighty was today updated to version 3.0, with the developers behind the app introducing useful new sharing functionality that's free to use.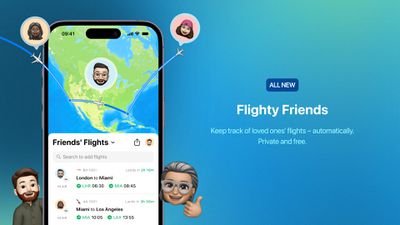 Flighty Friends allows Flighty users to send their flight information to family and friends in a quick, easy to parse format. Flight details are easy to follow, so family members can monitor a flight, see if there are delays, and know when you land.
To use Flighty Friends, you just need to connect with a person, and then you can see each other's trips automatically, eliminating the need to send over flight data like airline, flight number, and arrival times. The app will send regular notifications for events like delays, takeoffs, and landings, and there are customizable notifications so each user can decide how much info they want to see.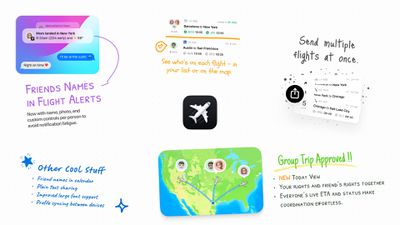 A live flight map displays the flight locations of every person that you've connected with, so you can keep track of flight progress in real-time. Flight sharing is a free feature of the Flighty app for all users, and flight sharing can be toggled off or on as needed.
Flighty is free to download and use, but there is a "Pro" upgrade that adds features like instant push alerts, FAA delay alerts, Lock Screen widgets, live inbound plane tracking, delay predictions, an arrival forecast, and more. Flighty works on the Mac, iPhone, and iPad, and can be downloaded from the App Store. [Direct Link]