Apple last month announced that its "My Photo Stream" service is set to shut down on Wednesday, July 26, 2023, which means customers who are still using that feature need to transition to using iCloud Photos before that date. Keep reading to learn what it means for you and whether you need to take action.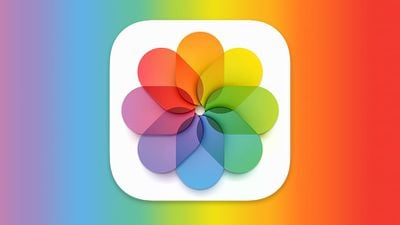 What is My Photo Stream?
Originally launched in 2011, My Photo Stream is a free service that when enabled temporarily uploads images (up to 1,000 at any given time) to iCloud, making them accessible across your Apple devices and available for importing to your library on any device. Photos remain in My Photo Stream for 30 days and are then automatically deleted from ‌iCloud‌.
My Photo Stream was later replaced by iCloud Photo Library (now ‌iCloud Photos‌) and Apple is now shutting down the My Photo Stream service on Wednesday, July 26, 2023.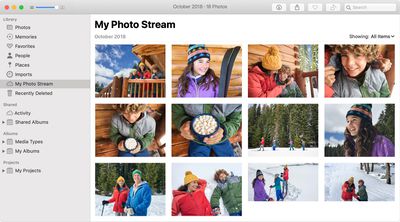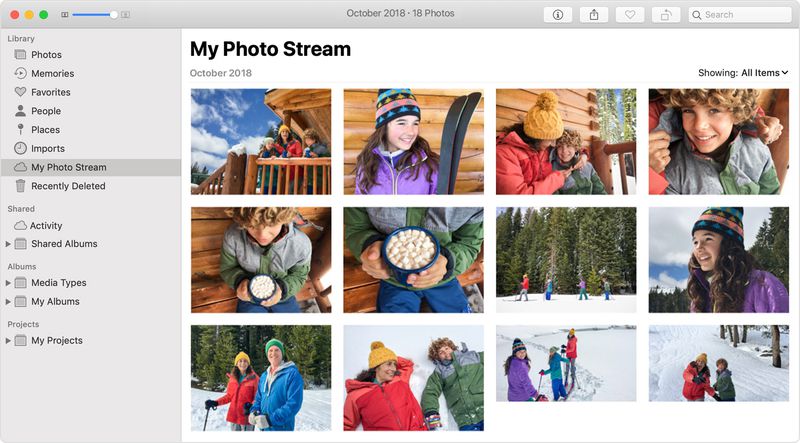 To prepare for the shutdown, Apple stopped photo uploads to My Photo Stream on June 26, 2023, so any images uploaded to the service before that date will remain in ‌iCloud‌ for the usual 30 days until the shutdown point.
What Do I Need to Do?
If you already use ‌iCloud Photos‌, you don't need to do anything – your photos are already uploaded and stored in ‌iCloud‌. However, if you're not sure, you can check that ‌iCloud Photos‌ is enabled on all of your devices.
On iPhone and iPad
Open the Settings app and tap your Apple ID at the top of the menu.
Tap iCloud.
Make sure that it says "On" next to Photos.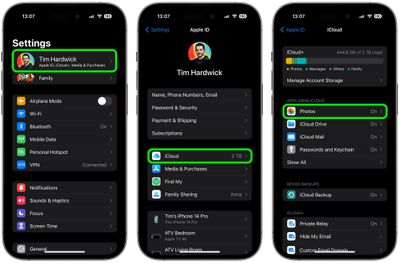 On Mac
Click the Apple symbol () in your Mac's menu bar and choose System Settings.
Click your ‌Apple ID‌ name at the top of the sidebar.
Click iCloud.
Make sure that it says "On" next to Photos.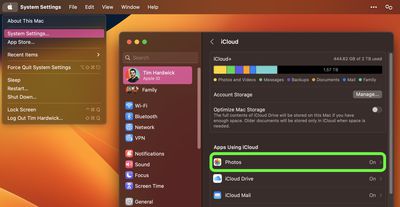 What to Do If You Don't Use iCloud Photos
‌Photos‌ in My Photo Stream are already stored on at least one of your devices in their original format, so as long as you have the device, you won't actually lose any photos when the service shuts down.
However, what you will lose is the ability to access these images on any device. If any photos you want aren't already in your library on a particular iPhone or iPad, one option is to turn on ‌iCloud Photos‌ using the steps above.
Note that ‌iCloud Photos‌ requires a paid ‌iCloud‌ subscription to go beyond the free 5GB ‌iCloud‌ storage limit, and it‌ is only available on iPhones and iPads running iOS 8.3 or later and Macs running OS X Yosemite or later.
Alternatively, you can save photos in My Photo Stream to your library on a particular device, as long as you do it before July 26. The following steps show you how.
Saving 'My Photo Stream' Photos to Your Photo Library
Open the ‌Photos‌ app and tap Albums.
Tap My Photo Stream, then tap Select.
Tap the photos that you want to save, then tap the Share button (the square with an arrow pointing out).
Choose Save Image.
If you own a Mac, you don't have to do anything – My Photo Stream photos automatically import to your library.