Apple is considering releasing a foldable iPad in the future, according to a paywalled preview of an upcoming DigiTimes report shared today.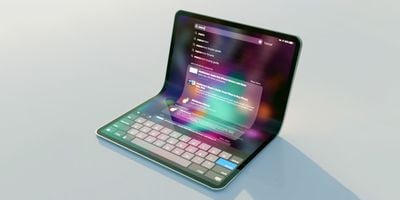 "Apple, who is rumored to have been working on foldable smartphones for several years, reportedly is considering extending the effort to the tablet sector," the preview says, citing sources from the upstream supply chain.
The report corroborates existing rumors about a foldable iPad. In January, Apple analyst Ming-Chi Kuo predicted that a foldable iPad would launch in 2024, but Bloomberg's Mark Gurman and Display Supply Chain Consultants CEO Ross Young said they had not heard anything about such a device at the time. Kuo said the foldable iPad would feature an all-new design and a lightweight and durable carbon fiber kickstand.
Like foldable smartphones from brands such as Samsung and Google, a foldable iPad would have a hinge that allows the device to be opened and closed like a book, resulting in a much larger display than existing models when it is unfolded. A foldable iPad would likely be positioned above the 12.9-inch iPad Pro, which starts at $1,099.
Apple has yet to release any devices with foldable displays, but rumors suggest the company is considering all options over the long term, including a foldable iPhone, iPad, and Mac. It remains to be seen if Apple ever releases any of these devices, or if the plans will remain limited to the research and development stage.
Popular Stories