With the Vision Pro headset, there is an option to activate an Environment that allows you to shut out the world around you. While Apple has mentioned Mount Hood as an Environment you can visit and use as a backdrop, there are several others.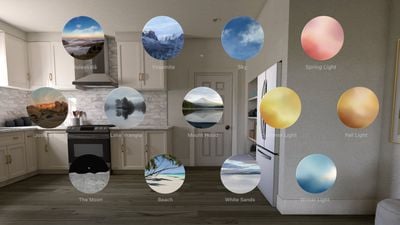 Apple today released the first version of visionOS, which can be experienced using the latest Xcode beta, and the ‌visionOS‌ update has given us some insight into new ‌visionOS‌ features. Here are the available environments right now:
Haleakala
Yosemite
Sky
Joshua Tree
Lake Vrangla
Mount Hood
The Moon
Beach
White Sands
Winter Light
Fall Light
Summer Light
Spring Light
Vision Pro users will be able to enter a virtual environment by turning the Digital Crown to shut out the real world. Environments can be used as a background for watching movies, using apps, making calls, and more.
(Thanks, Steve Moser!)