Repair website iFixit today shared a 15-inch MacBook Air teardown on YouTube, offering a closer look inside the laptop. As expected, the 15-inch MacBook Air has a similar internal design as the 13-inch model, with the only notable difference being two extra speakers.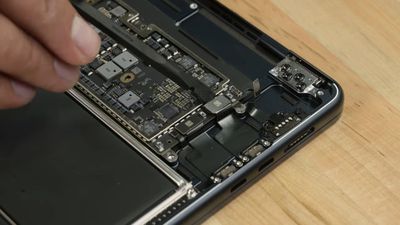 Image Credit: iFixit
"The new 15-inch MacBook Air also features a phenomenal new six-speaker sound system with two tweeters and two sets of force-cancelling woofers," said Apple. "The new speakers deliver twice the bass depth for fuller sound, and Spatial Audio with support for Dolby Atmos provides immersive experiences whether listening to music or watching movies."
As with the 13-inch model, the battery cells have adhesive pull tabs, making them easier to remove after other components are disassembled.
The teardown offers a look at the 15-inch MacBook Air's logic board with the M2 chip and a single NAND chip for the 256GB model, which can result in slower SSD read and write speeds compared to 512GB, 1TB, or 2TB models.
Like other Apple laptops, iFixit said the 15-inch MacBook Air is very difficult to repair. In addition, RAM and storage cannot be upgraded after purchase.
Key advantages of the 15-inch MacBook Air over the 13-inch model include a larger display, larger trackpad, and six speakers instead of four. Both models have the M2 chip for equal performance, and very similar battery life. Apple began accepting orders for the 15-inch MacBook Air last week, and the laptop launched on Tuesday.