Prior to the launch of the latest Apple TV 4K, there were rumors that Apple planned to build Find My functionality into the Siri Remote to make it easier to find. That never happened, but Apple is introducing a similar location function for the ‌Siri‌ Remote in tvOS 17.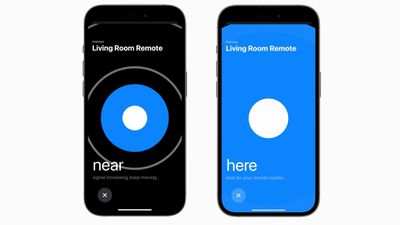 If the ‌Siri‌ Remote becomes lost, tvOS 17 users can open up the ‌Apple TV‌ remote on the Control Center on a linked iPhone to locate their ‌Siri‌ Remote. There is a Find My-like interface that will guide them toward the remote, with the size of the onscreen circle growing to guide movement.
The feature for locating a ‌Siri‌ Remote works with the second-generation or later version of the device, and tvOS 17 is required as well.
The Remote location feature is likely possible due to deeper integration between the ‌iPhone‌ and iPad and the ‌Apple TV‌. Apple has also introduced a FaceTime app for the ‌Apple TV‌ that uses a connected ‌iPhone‌ or ‌iPad‌ as the camera source.
Other new tvOS 17 features include updated screen savers that use your photos, an option to immediately switch to your profile when you use the ‌Apple TV‌ with your ‌iPhone‌ remote, and a revamped Control Center that makes it easier for you to access key settings and information.